After graduation comes off-to-college season. Often this means parents making design choices for their children or parents and their soon-to-be-college freshmen searching for supplies that will serve dual purposes, particularly when it comes to storage.
For those who find themselves in a dorm room design conundrum, local organizers offer tips and tools for creating stylish yet space-saving designs for new college students.
"Most kids will have a roommate or roommates," said professional organizer Paula Lettice, owner of Gal Friday Associates in Mount Vernon. "The first thing to do is to contact your roommate to find out what you can share. You don't want to show up with duplicates. You can cut down on the amount of space and the cost of things that have to be purchased."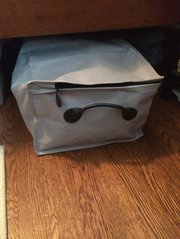 "First of all, when packing for college, since there is in most cases very limited space, students should really think seriously about what they will actually need and only take those items," said Susan Unger of ClutterSOS, LLC in Vienna. "However, there are items and things to consider to maximize the space when arranging the room."
Lettice also suggests taking only the essentials and leaving everything else at home. "Only take what you absolutely think you need for two months, not for the entire school year, and then figure out what you can live with or can't live without," she said.
Because space is limited in dorm rooms, organizers say to bring items that serve multiple purposes: "Choose something that can be used as a table, but can also be used as a storage space," said Lettice.
Organizers also advise being creative when it comes to finding storage. "Behind the desk [put] a multi-function message board that is cork to tack things up, dry erase to write notes, magnetic or ribbon to display photos," said Arlington-based professional organizer Jody Al-Saigh of Picture Perfect Organizing.
Unger suggests thinking vertically rather than horizontally: "Buy a taller laundry basket rather than a short wide one," she said. "Consider the backs of doors as useable storage areas. Over-the-door hanging shoe organizers can be used not only for shoes, but for toiletries, school supplies or snacks."
"Use [an] over-the-door shoe bag for things other than shoes [like] scarves, electronic devices, school supplies, dry goods/packaged snacks," Al-Saigh said.
Also use the storage space under the bed. "Putting the bed up on risers, if that is allowed, is the best way to maximize storage space," Al-Saigh said.
Unger said, "Bed risers also allow for deeper storage bins to be put under the bed for items such as extra linens and off-season clothing that don't need to be accessed on a daily basis."
Unger also advises using "a double hanging closet rod that can give you twice the amount of hanging space."
When buying supplies, downsize as much as possible. "Consider a small steamer instead of an ironing board and iron," said Unger. "Magnetic storage bins can be placed on the refrigerator for pens, pencils and other office supplies.
"A shower caddy can house all your bathing products in one place when sharing a bathroom with others," Unger continued. "A clip-on bed lamp will not take up any table space and should also not interfere with your roommate's sleep."