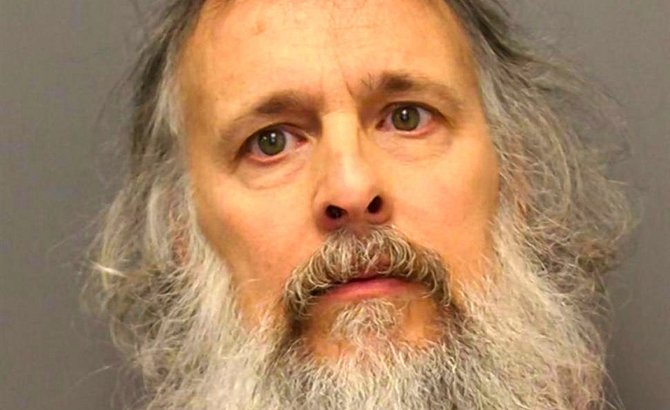 Audio clip
Chief Cook on Severance
When Linda Robra first met Charles Severance at a Dulles Hilton swing dance in 2011, she could not have known that the man she came to know as "Charlie" would turn her life upside down. Clearly nervous as she took the stand in Loudoun County General District Court last week, Robra told the judge how Severance persuaded her to purchase two revolvers and showed her how to load them. The two lived together in Ashburn until the day an Alexandria police detective left a business card on the windshield of her car. That's when she delivered an ultimatum to Severance: cooperate with the investigation or leave. The next day he was gone, and so were both of her revolvers.
"I think he just didn't want to be around police," Robra said.
Police officers eventually tracked Severance down at the Ohio County Public Library in Wheeling, W.Va., where he was arrested while using a public computer. Prosecutors in Loudoun are charging him with being in possession of a firearm, which is illegal because Severance is already a convicted felon as the result of a 2005 case in Rockingham County in which he plead guilty to carrying a concealed firearm. Meanwhile, police officials in Alexandria say they have narrowed the focus of their investigation into three high-profile murders and that Severance is the "prime focus."
"We do not normally talk about people we are looking at in an investigation," said Police Chief Earl Cook. "It was only the unique circumstances around him that we are discussing him."
ALEXANDRIA POLICE have yet to charge Severance with anything, although the Loudoun gun charges are playing out against the backdrop of the ongoing Alexandria investigation. Over and over again, defense attorney Ed Ungvarsky raised the Alexandria investigation during a preliminary hearing in Loudoun on the gun charges, a case he says is an "extraordinary stretch." Ungvarsky says the gun charges are a sham and pretext to hold him in Loudoun as the Alexandria investigation continues.
"This is a suspect in an Alexandria case," said Loudoun Commonwealth's Attorney Jim Plowman. "And we are not here for that today."
Alexandria police say Severance is not a suspect, and they even shy away from calling him a "person of interest." After repeated requests to clarify the role Severance is playing in their investigation, police officials summoned reporters to police headquarters last week for a series of one-on-one interviews with the chief. Cook said an arrest in the murder cases is "not imminent," although his detectives have narrowed the investigation and that Severance is now the "prime focus."
"We started with Mr. Severance with a tip," said Cook. "Before we had the opportunity to attempt to talk to him he was leaving town."
PROSECUTORS IN Loudoun say Severance broke the law when he showed Robra how to load her revolver, an act she says involved him holding the weapon. Because he is legally forbidden from being in possession of a firearm as a result of the 2005 conviction, they say that was an act that was in clear violation of the law. If convicted of the firearms violation, Severance would face a minimum of two years in prison. But his defense attorney says prosecutors have a weak case, and he spent three hours questioning every piece of evidence they entered into evidence.
"They want to charge him with the gun they don't have," said Ungvarsky. "This case is woefully weak."
General District Court Judge Deborah Welsh disagreed, certifying the case to the Circuit Court and setting a trial date next month. If last week's preliminary hearing is any indication, Ungvarsky will offer a full-throated defense of his client, challenging everything from the courtroom identification of his client to rules of evidence related to papers seized in a March search of Robra's home in Ashburn. Authorities in Alexandria have placed the affidavit leading to that search under seal, denying the public an opportunity to know details about why Alexandria detectives were interested in searching the house.
"There's some things unique to him as we've gotten into the background and the things associated with our investigation," said Cook.
When asked what that might be, Cook declined to answer.
"We can't discuss specifically," he said.