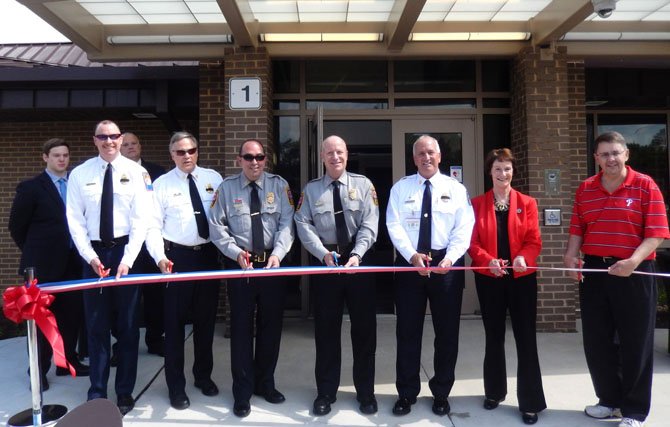 Photo Gallery
Station Expansion Celebrated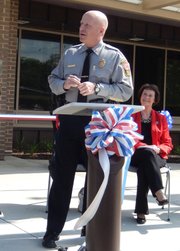 Click Photo for Flash
When the Fair Oaks District Police Station was built in 1982, it met the needs of the employees. It opened in 1983 with some 65-70 police officers and a handful of civilians.
But by fall 2006, 117 people — including 101 sworn officers — worked there, so money for an expansion and renovation were put on a bond referendum.
"We've outgrown the facility and utilized every square inch of space we possibly could," said then Station Commander Amy Lubas. "We've exhausted all our possibilities and pushed the station to its limits."
Indeed, three people used the conference room as their office. And the nine bike-patrol members worked in the sally port — a drive-through garage for transferring prisoners securely — crammed among the paint cans, ladder, air compressor and other building-maintenance items.
The patrol officers didn't even have desks; they wrote reports in their cruisers, on a clipboard in front of the steering wheel. Officers also had to haul around all their gear with them, because storage space in the station was all but nonexistent.
The bond issue passed, and the original building project grew to include more space than initially anticipated. It also encompassed renovations to the Fair Oaks District Fire Station next door. Altogether, it cost $14 million. Work began in June 2010, with the first three phases finished in November 2013. The last phase — renovating the fuel station behind the police station — will begin soon.
Meanwhile, residents, police and dignitaries alike gathered Saturday, June 14, to cut the ribbon on the larger, modernized police station. "This project involved 18,000 square feet of expansion and the renovation of 24,000 square feet," said Capt. John Naylor Jr., the station commander. "It includes a two-story addition and a single-story training-room addition. It's expanded immensely to meet the needs for 2030."
The fire station added 1,900 square feet for an expanded, women's bunk room; mechanical equipment, new lockers, more parking, plus an apparatus/ready-gear bay. Originally 10,400 square feet, the police station gained an extra 16,400 square feet.
Its interior was completely renovated, adding new locker rooms and electrical, security and mechanical upgrades. The roof was partially replaced, a wellness center to share with the fire station was added, and parking was expanded and made more secure.
Naylor thanked everyone involved in the work for their "unwavering dedication and professionalism during the planning and construction. We have a distinctive and modern facility that the men and women who work here are proud to call home."
Saying it's an "exceptional building," Fairfax County Board of Supervisors Chairman Sharon Bulova said she was pleased to help celebrate its reopening, plus the dedication of a memorial there to a K9 named Thor. "This was in great need," she said. "It's reinvesting in our public spaces and in public safety."
County Police Chief Ed Roessler Jr. said both the Fair Oaks fire and police stations have personal meaning to him because this police station "was mainly my home station until the Sully District Station came on line. [Now this is] a public safety center to serve the growing urbanization of the area."
Also there was former county Police Chief Dave Rohrer, now the deputy county executive, and Roessler said his assistance "helped us get here today." To all those who played a part, said Roessler, "Thanks for making this vision happen. This was a great challenge and we made it through."
County Fire and Rescue Chief Richard Bowers called it a "great day for Fairfax County and public safety. Our response environment in firefighting and EMS has changed dramatically since I was a rookie, and our elected officials helped meet this need. Thanks to the community and our police partners; the infrastructure improvements here at Station 21 are huge."
"Buildings don't make quality service," said Supervisor Michael R. Frey (R-Sully). "We'd have an outstanding police department and a world-class fire department no matter what, because of the people. But good buildings and equipment maximize their ability to serve the people of the community and keep them safe."
After the ribbon-cutting, Naylor led a tour of the police station, pointing out the new additions and enhancements, including the ballistic glass and concrete-reinforced walls in the front-desk/reception area. He also noted that 110 sworn officers plus 15 auxiliary officers and civilian employees work out of that station.
Naylor said the roll-call room was enlarged and a new, evidence-collection room is being created. There are now three sally ports, instead of one, and the wellness/fitness area is on the second floor.
"I did lots of my patrol time here, was assistant commander and am now commander here," he said. "Before, we were crammed into a tight space, with not enough room for meetings and lockers. This renovation was so needed because of the modern upgrades, equipment and police standards. We have plenty of room for the officers now, and room for more expansion if more officers are ever added."