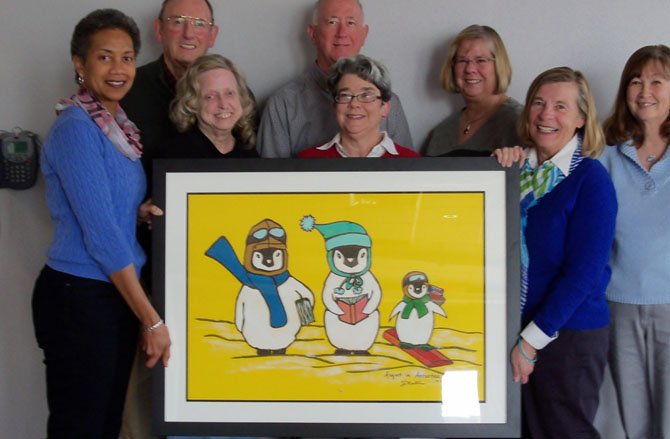 As president of the Friends of Richard Byrd Library, Springfield resident Christine Peterson spends countless hours, along with other volunteers in the group, working to ensure the library is effectively serving the community.
The group was recognized for their service to Springfield when they were honored with the Volunteer Fairfax Adult Volunteer Group award.
"When we were called, I screamed," Peterson said. "We never thought a library would win against groups that help babies and puppies."
Jo-ann Mitchell, who lives near Kingstowne but comes to volunteer at Richard Byrd because of its strong friends group, knows just how excited Peterson was that the group won the Volunteer Fairfax award.
"She screamed in my ear," Mitchell said.
The Friends of Richard Byrd volunteer non-stop to share their love of reading and learning with the community, supporting the library in its goal of reaching out to the surrounding Springfield area.
"I love this area. There's a wonderful ethnic diversity here," Peterson said.
The area surrounding the library has some low-income housing and Title I schools, which Peterson and other Friends members say makes the library even more important.
"There are all different types of needs," Peterson said. "Whether it's learning how to use an e-book, to taking an English conversation class, the library offers everything."
The Friends group even reached out to schools in the area, giving teachers the opportunity to pick out free books for their classroom at the library.
Peterson, who has been volunteering at the library for over a decade, said the library is more important now than ever.
"It used to just be checking out a library card and getting a book. Now, you can check out an e-book without even going into the library. If you want to become a U.S. Citizen, you can learn how to do that at the library," she said.
In addition, it can save a lot of money, Peterson points out, as all of the trips to the bookstore can add up.
"If kids start a series, they can read all of it at the library," said Sandy Freund, branch manager of Richard Byrd Library.
The library is really a great place for families, Peterson said. From the summer reading program to an August in Antarctica event, inspired by the library's namesake explorer, there's something for everyone.
Mitchell and Freund say the Volunteer Fairfax award is a testament to Peterson's leadership. But Peterson says everyone in the group works extremely hard.
"Each volunteer is just as smart and great as the next," Peterson said.
For other Friends groups in Fairfax County who are looking to be as successful as those at Richard Byrd, Peterson it's important to always think of the surrounding community.
"Don't limit your vision to four walls," Peterson said. "The library can do so much more than that."
As for the Friends of Richard Byrd, Peterson said they will continue to enable the library in its efforts to make Springfield a better place.
"Springfield is always improving, and I think we mirror that in the friends group," she said.