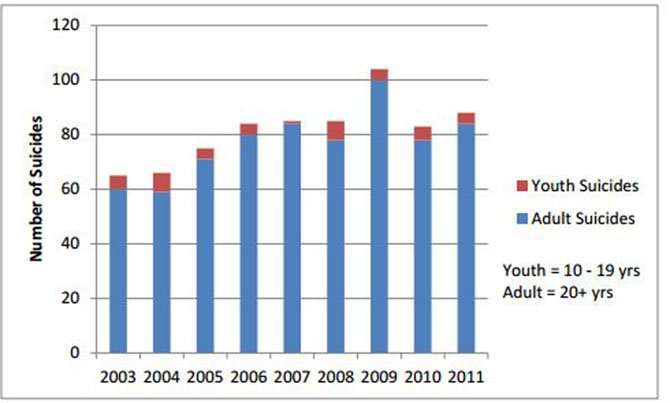 Following several incidents in the community involving youth and suicide, Laura Yager, the director of partnership and resource development for the Fairfax-Falls Church Community Services Board, said the community has recognized the need for youth suicide prevention.
"I think our community has reached a tipping point in terms of people wanting to really work on strengthening our kids and preventing suicide in our community," Yager said.
That's where tools like the CSB's online Youth Suicide Prevention Program come in handy. The CSB is working with Kognito, which has a variety of online suicide prevention programs that help adults recognize when a young person is experiencing psychological distress.
THE TOOL is fun and interesting, Yager said. It allows the user to interact with students in various scenarios and provides instant feedback.
"It's different from the typical suicide prevention program. Those sort of just talk to you. This is actually a simulation where you become a classroom teacher. You have different scenarios and ages and choose your response," she said.
Each of the scenarios involves youth with some sort of psychological distress, including At-Risk for Middle School and High School, and Step In, Step Up! which involves youth who are being harassed because of the sexual orientation or identity.
So far, the feedback has been pretty positive, Yager said.
"When you complete the training, the research shows that people actually gain skills as opposed to just knowledge, which is very important with prevention efforts. It's important to have techniques to intervene. You don't have to be a mental health professional to do that," Yager said.
According to Yager, this is one of the first times the CSB has had an online program.
"You can be anywhere when you take it. You don't have to be in a classroom. It has a very broad reach," she said.
A new planning grant has also been awarded to the region, which will allow organizations to work together to ensure effective youth suicide prevention programs.
"We are very excited about the planning grant, as it provides the resources to better allow us to take a regional approach, incorporating partners throughout Northern Virginia so there is better consistency in our efforts," said Jesse Ellis, prevention manager of Fairfax County Department of Neighborhood and Community Services. "Further, it will provide more opportunity to engage diverse stakeholders and community members to ensure we have a well informed and representative plan."
Last fall, a report titled "Suicide in Fairfax County" was released. According to the report, an average of 82 people per year died of suicide in Fairfax County from 2003 to 2011. Between four to seven youth die of suicide each year from 2003-2011.
THE REPORT recommended several short-term recommendations, including a Youth Suicide Review Team.
"The team, which we anticipate beginning operations this fall, will conduct in-depth reviews of cases of youth suicide in Fairfax to determine opportunities to implement changes in how our systems operate in order to better prevent future suicides. For example, the team may identify gaps in referral systems or a category of adults who work with kids who should be trained in recognizing warning signs," Ellis said.
Ellis said he went into the online training somewhat skeptical, but now recommends it to everyone he meets.
"The story lines and interactions with the characters are realistic and thought-provoking, and the lessons are wide-ranging," he said. "I have been able to incorporate what I learned, for example, into how I interact with my own kids."
According to Gail Taylor, Prevention Services Manager at Virginia's Office of Behavioral Health Services Department of Behavioral Health & Developmental Services, resiliency is a key strategy to practice.
"There is no simple answer to a complex issue and building resiliency is one of the important strategies. In general, it is important that we have supportive adults and systems that have the capacity to promote youth behavioral wellness as it relates to positive youth development, meaningful relationships and involvement, provide access to resources such as effective programming and coordinated community efforts," Taylor said.
Anyone is encouraged to take the online training, which is available at fairfax.kognito.com.