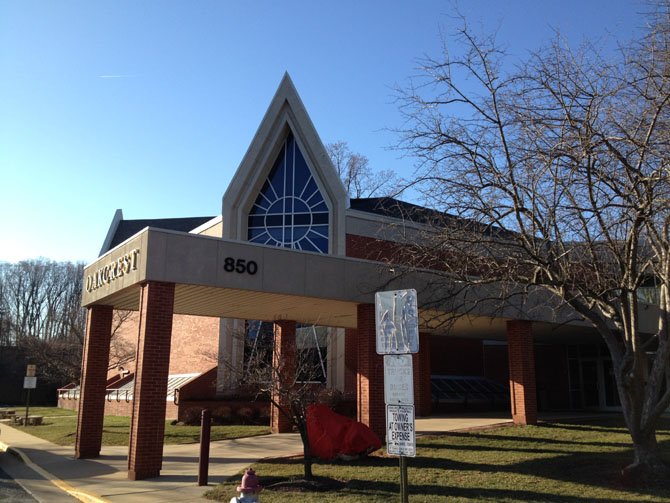 The Fairfax County Board of Supervisors approved a special exception amendment from the Oakcrest School on Tuesday, Feb. 25, providing for a traffic light at the intersection of Hunter Mill Road and Crowell. The decision ended a four-year back-and-forth between the McLean-based Oakcrest School, landowners near the intersection of Hunter Mill and Crowell roads, and the board of supervisors.
With the approval of its special exception amendment, Oakcrest School can now begin building its new facility, which will include a heavily disputed driveway entrance on Crowell Road.
"We've been on hold and in limbo for four years, which has put an incredible strain on our tiny little school," said Miriam Buono, chair of the new-campus committee for Oakcrest's board of directors. "We have been completely tied up in knots up until this vote. It allows us to finally build a campus that fulfills the mission of the school."
THE OAKCREST SCHOOL, an all-female Catholic preparatory school with an enrollment of about 200 students, has been attempting to move from its current location on Balls Hill Road in McLean since first purchasing the property off of Hunter Mill Road in 2010.

According to Buono, Oakcrest's currently facility, vacated by McLean Bible Church in 2007, lacks a gymnasium, athletic fields, and even windows in some rooms. Under the special exception amendment passed Feb. 25, Oakcrest will be able to build their school with a setback front yard, soccer fields and a softball field as long as they provide adequate foliage and rocks for screening.
Oakcrest was originally granted a special exception from the Board of Supervisors in 2010 providing for a roundabout at the intersection of Hunter Mill Road and Crowell Road. The proposed exception also included an extended driveway to the new school on Hunter Mill Road through the Golf Park owned by John Thoburn. Thoburn notably sold the property to Oakcrest School and agreed to the special exception's conditions.
Six weeks after its passage, however, Hunter Mill East, LLC, representing Thoburn and two other property owners, sued the Board of Supervisors to prevent the implementation of the driveway and the accompanying roundabout, according to a lawsuit filed with the Circuit Court of Fairfax County.
Oakcrest, unable to build their new facility, attempted to work with county staff and Hunter Mill residents for the next three years to gain their approval for an alternate access road on Crowell Road. On Feb. 21, Oakcrest filed a special exception amendment requesting to change from a roundabout at the intersection to a traffic signal, which the board approved in an 8-2 vote four days later.
Though Oakcrest officials are happy with the decision, some residents who live near the intersection, currently a three-way stop sign, feel cheated.

"This was an eleventh hour attempt to involve the community, and the perception is that the decision was already preordained," said Laddie Suk, who served on Supervisor Hudgins' (D-Hunter Mill) outreach committee for this issue. Suk lives about one mile from the often-congested intersection and said that the stoplight will likely make traffic worse on Hunter Mill Road.
"The school has hired traffic engineers, and county staff have done what they believe is an assessment, but anyone with common sense who travels this road every day understands that a stoplight is going to be a failure."
Hunter Mill District residents also feel that this is a case of double jeopardy in which the county voted against the measure at one point and flip-flopped several years later, according to Steve Hull, an executive board member for the Hunter Mill Defense League. In 2010, the board rejected a proposal for a Crowell Road entrance when the property was still in the Dranesville District. In 2011, its redistricting brought the land into Hunter Mill District.
"Our opinion is that they've done this community a great disservice. The Board of Supervisors just voted themselves out of a lawsuit," said Hull.
MANY ARE CONCERNED that the passage of Oakcrest's special exception amendment will open the doorway for other future development, a notion that Buono denied was linked to Oakcrest's expansion at their new planned facility.
According to Hull, however, regardless of their intentions, Oakcrest "became a party" to nearby landowners plans for future development. Hull expects Crowell Road residents may pursue litigation as an avenue to fight future development.
Oakcrest School, meanwhile, will aim to open its doors on Hunter Mill Road in Fall 2015, according to Buono.