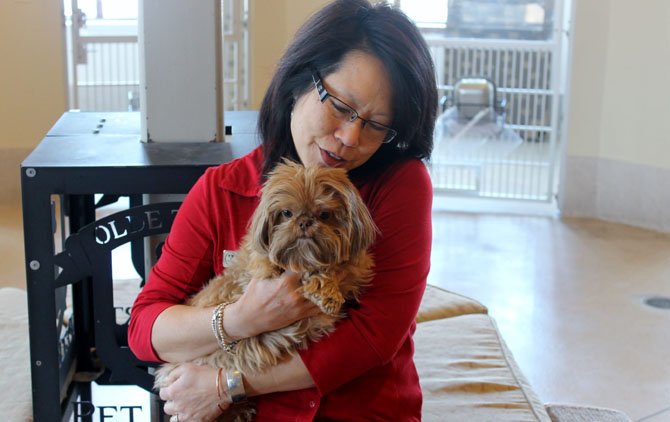 Olde Towne Pet Resort is no ordinary boarding service.
Dogs and cats at this resort, with locations in Springfield and Dulles, receive walks, time in a lap pool, spa treatments, massages, and more.
When owners check their pets in for a stay at the resort, they meet with an employee who asks them specific questions about their pets.
"Whatever the issues are, we talk about it. That gives the pet parent reassurance of what the pet will experience during their stay," said Dixie Eng, general manager of the Old Towne Pet Resort in Springfield.
The resort also offers a day camp for dogs, allowing them to play and socialize with each other while their owners are working.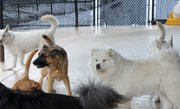 Dogs who visit Olde Towne Pet Resort can opt into a dog fitness program, which includes cardio jogs, agility play, swimming and iron dog circuit fitness.
Less stressful services available at the resort include massages, grooming, and salon treatments.
The resort also includes pet suites with webcams, which allow owners to check in on their pets 24 hours a day.
These 50 square foot luxury suites, the most expensive of the options at the resort, include four walks, two playtimes and a webcam.
According to Eng, the resort welcomes all dog breeds.
"We are not prejudiced to any type of breeds. We don't prohibit aggressive dogs," Eng said. "We do handle them separately and carefully, so that there is no interaction amongst others. We have several pets that have special considerations."
Eng said that dog day camps are separated by temperament, rather than size, but generally dogs of the same size are grouped together.
According to Eng, pet parents choose Olde Towne Pet Resort because they know their pets are in good hands.
"We have a much higher ratio of employees to pet. We have staff here 24 hours a day so the pets are never left completely alone. I think that gives peace of mind to pet parents," Eng said.
Olde Towne Pet Resort will be sponsoring the PetFest at the Springfield Days Festival, May 31 to June 1.