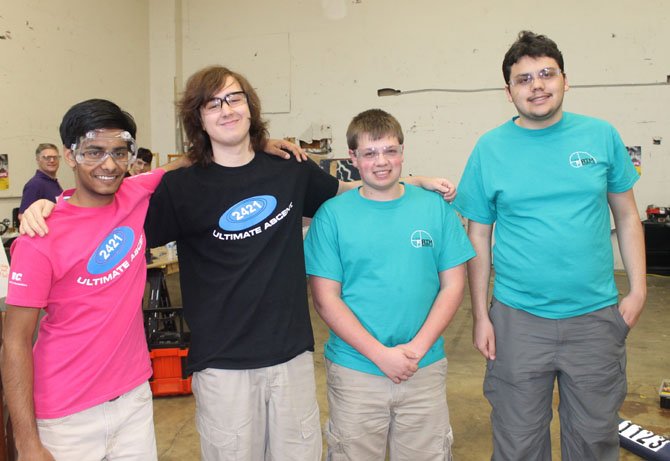 Every Monday, Friday and Saturday, members of the AIM Robotics and RTR Team Robotics meet in Lorton to prepare for the upcoming Greater D.C. Regional competition on March 27.
The teams, both part of FIRST Robotics, share a space provided by Shirley Contracting. Students work on parts, coding and more to prepare for the competition.
Ryan Beaver, a senior at Robinson Secondary School, is co-captain of AIM Robotics. AIM stands for Autodidactic Intelligent Minors, and the team consists of students from public and private schools around the area, as well as home-schoolers.
"I joined and fell in love," Beaver said.
Andrew Peace, the team's other co-captain, is a home-schooled student who joined due to an interest in engineering.
"You learn a lot when you come in," Peace said.
Ragav Goyal, a senior at West Springfield High School, and David Kitrinos, a junior at West Springfield, are co-captains of the RTR Team.
"I really wanted to get some hands-on experience," Kitrinos said.
Hands-on learning is part of the FIRST Robotics experience. Each team builds a robot and learns from professional engineers who mentor the team.
Students work alongside mentors who work in the engineering field or have been on the team in the past. Parents and community members also supervise the long practice sessions.
For several years in the past, the teams worked in garages or other small spaces. This year, they say they were lucky to receive a donated space by Shirley Contracting.
The FIRST Robotics requires teams to solve a problem within a six-week time period, building a robot which will then enter into a competition. This year's competition is "Aerial Assist."
"It's great working with the young students," said Deanne Mahoney, who has been a parent volunteer for seven years.
According to Gary Beaver, the team always has room for more mentors.
"Mentors come here because it is more fun than their regular weekly job," Beaver said.
Co-captains of the teams say they are pretty prepared for the upcoming competition. Both teams have grown this year, which means time was spent teaching new students and getting them up to speed.
Several members of the team, including the co-captains, say they are interested in pursuing robotics and engineering as a career and hope to study these programs in college.
"They are learning things here that students in college learn," Beaver said.
A couple of Fairfax County schools have robotic teams, but FIRST is the only community-based group that allows students in ninth grade to join.
Teamwork is a big part of being involved in FIRST. At the competition, the teams are paired up with other teams and have to work together to complete the challenges.
The Washington, D.C. Regional Competition will be on March 27-29 at the Patriot Center in Fairfax. The event is free and open to the public.