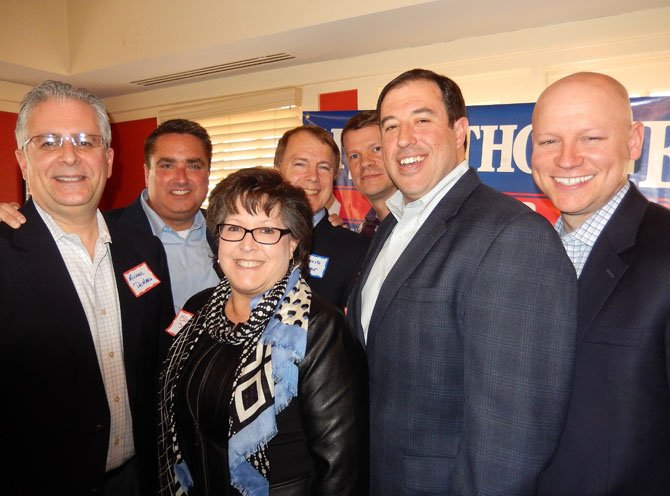 City of Fairfax Mayor Scott Silverthorne kicked off his re-election campaign Sunday afternoon, March 9, at Red Hot & Blue. Attendees included Fairfax County Board of Supervisors Chairman Sharon Bulova, State Sen. Chap Petersen (D-34th), Del. David Bulova (D-37th) and former Fairfax mayors, John Mason and Rob Lederer.
Since Silverthorne now has a challenger, John Norce, Silverthorne called it "a real race" and has begun campaigning in earnest. And, he added, "I am so fortunate to have the unanimous support of our City Council and School Board."
Regarding the City, he said, "It seems like we've turned the corner in Fairfax and we're really in a position now to grow our economy. I'm going to campaign hard, and I think I have a really good chance of winning. This is a wonderful city. I'm so blessed – I have the best job in the world, but it's only possible with the community's and my colleagues' help."
The full slate of candidates for the May 6, nonpartisan election is as follows:
Mayor
Incumbent: Scott Silverthorne
Challenger: John Norce
City Council
(Vote for six)
Incumbents: Michael De Marco, Jeff Greenfield, David Meyer and Ellie Schmidt.
Challengers: Cristina Gaines, Nancy Loftus, Janice Miller and Jon Stehle Jr.
School Board
(Vote for five)
Incumbents: Jon Buttram, Carolyn Pitches, Toby Sorensen and Mitch "Sut" Sutterfield.
Challenger: Robert Reinsel