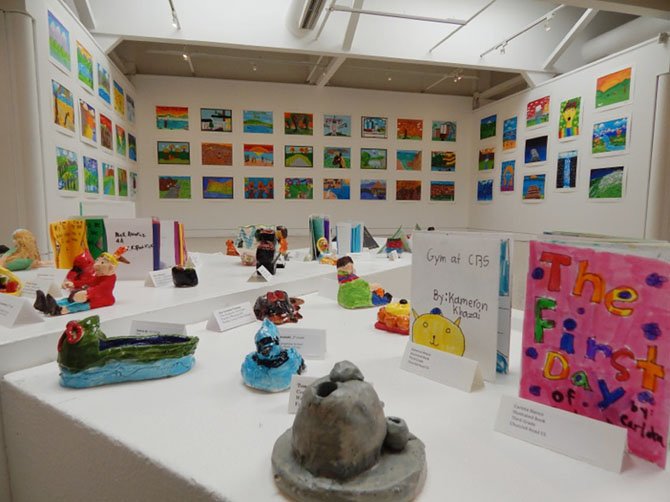 Brightly colored self-portraits, landscapes dotted with spring flowers and hand-carved sculptures fill a gallery at the McLean Project for the Arts in McLean. All of the art was created by local school children. Meanwhile, in Alexandria, parents and tots dip their fingers in glue, clay and paint to create collages, sculptures and paintings.
"It is a true delight to see parents and children making things together in the studio. Joy is found in the stuff they make — the collages, paintings, drawings and sculptures — as well as the more intangible things we build: relationships, confidence, creativity, persistence and the many ways we make meaning through art," said Kathryn Horn Coneway of Art at the Center in Mount Vernon.
These are just some of the local art activities for children. In fact, Youth Art Month is an annual observance held each March to emphasize the value of art and art education. This year's theme is "Start With Art, Learn for Life," which was chosen by the Council for Art Education, a sponsor of Youth Art Month.
Local art educators are using the month as an opportunity to emphasize the importance of art education and raise awareness about the important life skills it can build.
"We believe art is important to study for its inherent value, but art also promotes life skills, including creativity, problem solving, determination, concentration, collaboration and confidence," said Samantha Marques-Mordkofsky, education and outreach manager for the Arlington Arts Center in Arlington. "Regardless of what field a child pursues later in life, these skills will translate and he or she will be better rounded because of … art. We also offer multidisciplinary classes like Book Illustration, Amazing Architects & Engineers, and Murals: Big Art, Big Ideas where students have the opportunity to master technical skills in art while simultaneously learning about other subjects."
"What our art educators have known for many years research is now confirming," said Benita Cathey, director of admissions at Grace Episcopal School in Alexandria. "Art helps develop critical thinking and reading skills. Art education is vital because it builds concentration, motivation and confidence."
Jorge Luis Somarriba, art teacher and artist-in-residence at Norwood School in Bethesda, Md., says the school is a community of artists. "We believe in a process-oriented and child-centered philosophy," he said. "Art nurtures self-confidence through self-discovery and personal visual expression. Art education is instrumental in the holistic development of a human being: spiritual, mental, emotional and physical. Art making develops the right brain, empowering individuals to become creative, problem-solvers who may think 'outside the box.'"
Experts said art education also develops self-expression and an appreciation for the work of others. "Elementary school students create art with such unbridled enthusiasm for painting, drawing and creating things," said Dabney Cortina, communications director for the McLean Project for the Arts. "I think it's because they haven't been told that there is anything wrong with how they create art. Currently going on is our youth art show featuring Fairfax County Public Schools in the McLean area. It is incredible to look at. You see the talent they have. It is totally amazing."
Eileen Lyons, chair of the Fine Arts Department at Connelly School of the Holy Child in Potomac, Md., said that the arts are a vital part of the school's curriculum. "Arts education helps students learn how to solve problems in unique ways and it deepens their overall learning experience," she said. "Through collaboration and cross-curricular projects, teachers at Holy Child work closely together to engage students in the arts on many different levels. Art teachers collaborate with language, social studies, English and geometry teachers to bring deeper meaning to learning."
For example, said Lyons, on a recent trip to the Phillips Collection in Washington, D.C., art and French teachers worked together to bring the Van Gogh Exhibition to life in both English and French.
Stacie Steinke, chair of the Arts Department at The Madeira School in McLean suggests art education might not be taken as seriously as other disciplines. "Schools in general have been responding to trends that you need more science and math education and have been teaching to tests. Not at Madeira, but at some other schools, art education has diminished," she said. "We look at arts as a process. Our students learn to work effectively with others. Our approach draws on a student's natural curiosity, ability to perceive art in different forms and ability to think spatially. They develop cognitive growth, so they learn to see how parts relate to a whole."