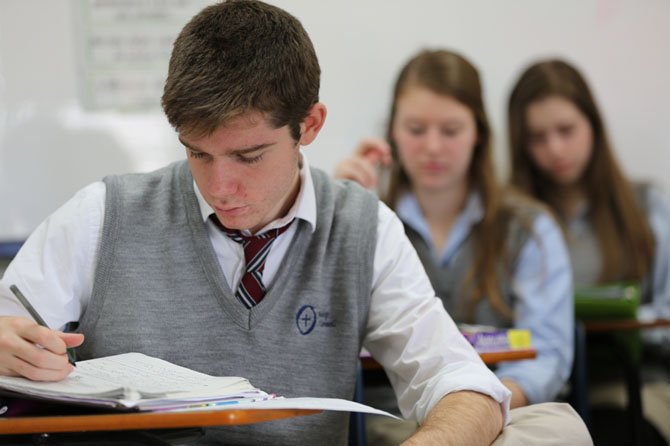 Linda Mitchell and her 15-year-old daughter, Alexis, say they don't really know what to expect when Alexis sits for the SAT college admissions exam in 2016, but they're not too worried at this point. Two years is a long time.
Test Prep
The College Board has partnered with Khan Academy, a not-for-profit educational organization; to provide free, supplemental test preparation resources for those taking the soon-to-be redesigned SAT in 2016. By spring 2015, students will have access to state-of-the-art, interactive learning tools.
Those taking the 2014 or 2015 SAT can gain access to hundreds of previously unreleased math, reading and writing questions from real SATs and more than 200 videos that show step-by-step solutions to each question. Visit http://www.khanacad…">www.khanacademy.org….
"I'm just going to make sure she gets the best education possible," said Mitchell, who lives in Great Falls. "There's nothing else that I can really do at this point."
Local experts said that Mitchell's strategy is wise, explaining that the best way current ninth grade students (and those who are younger) can prepare for the test is to become strong readers and writers.
"It would appear that College Board's recent announcement regarding the redesigning of the SAT will indeed have some impact on how students, mainly current ninth graders, will prepare for standardized tests in the coming years," said Michael R. Hude, a college counselor at The Heights School in Potomac, Md. "The best way to prepare for any standardized test is to work hard in everyday coursework and to read as many good and challenging books as possible."
Reading and reading comprehension skills are key. "There are kids today who love to read. They've been exposed to an extensive vocabulary so they aren't afraid of words," said test preparation expert Harriet Broder of Breakthrough Test Prep in Potomac. "If you're a strong reader, you're going to do well on the test."
So how can parents help their children become more effective readers? "I have had students who say they hate reading," said Broder. "One thing that parents can do, for example, for children who don't like to read, is if their child wants to go see a movie, the parent can say 'Read at least two or three reviews about this movie and the tell me why you want to see it.' That is the place to start for non-readers."
Students, said Broder, should also be exposed to a variety of writing styles. "There's no magic SAT fairy dust," she said. "Students should be exposed to different types of writing. They will be able to apply their skills more comfortably."
Broder also said improving reading speed and learning to recognize an author's main point and how the author had developed that point are critical skills. "Kids need to be trained to read to learn the author's thesis," she said. "Some students can read a chapter in a school book and can answer questions at the end, but they can't tell you the main point the author is trying to make."
Broder said an improved reading ability can be accomplished with "step-by-step … strategies in critical reading, problem-solving [and] vocabulary development …"
Officials at Bishop O'Connell High School in Arlington said they will focus on professional development strategies for teachers so they can help prepare students for the new test format.
"The proposed changes to the SAT will definitely have some impact in the way students prepare for the exam. The elimination of more obscure vocabulary words, free online test prep materials and aligning the test to coincide with what students actually learn in high school will allow students to focus more clearly on what they need to know to do well," said Kristina Herbst, the school's director of college counseling. "Also, the elimination of the penalty for wrong answers will make the test more user-friendly and help eliminate much anxiety over guessing while taking the test."
For those concerned about how the revised test might impact their admittance to their top college choices, officials at Marymount University in Arlington said they don't foresee a large adjustment.
"We will need to adjust to the changes in scoring, but otherwise no significant difference at this time," said Francesca Reed, associate vice president for enrollment at Marymount. "When we evaluate applicants, we look at the applicant holistically and consider not only their high school GPA and rigor, but their letters of reference and the level of engagement at their school and/or community. In an age when colleges are considering test-optional admissions, standardized tests will need to demonstrate that they provide admissions offices with resources that otherwise wouldn't have been determined through grades and other requirements."