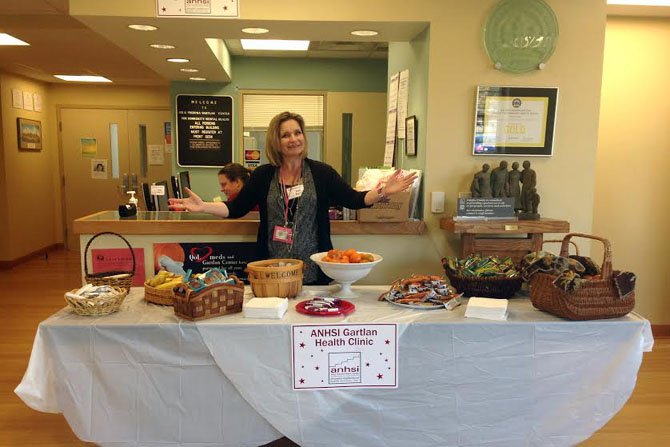 According to a 2006 study, people with a serious mental illness, on average, die 25 years earlier than the rest of the population.
The study, conducted by the National Association of State Mental Health Program Directors, found that about 60 percent of these deaths were due to conditions like cardiovascular and pulmonary disease.
Services at the Gartlan Center
-Routine physical exams
-Preventive health care
-Immunizations
-Flu vaccinations
-Care for chronic conditions such as high blood pressure and diabetes
-Health and nutrition education
-Lab services
-Access to discounted medications
-Access to dental care (coming in early 2014)
Colton Hand, the medical director of the Fairfax-Falls Church Community Services Board, said it was this study that made people realize that a serious problem existed.

"For a lot of agencies, all of a sudden, people realized that it was significant and a public health disaster," Hand said.
Although the CSB has been integrating primary and behavioral health care services for some time, Hand said, a new co-located service at the Gartlan Center in southern Fairfax County allows for clients of CSB to receive primary and behavioral health care treatment at the same place.
"People with serious mental illnesses in particular are very reluctant to get care in a medical setting. They have many fears and apprehensions. People with substance use issues as well encounter stigma and discrimination by medical professionals and by support staff. I think the idea of bringing the care to the patients where they are-that's the innovation," said Mark McGovern, a professor of psychiatry and community and family medicine at Dartmouth Medical School.
Neighborhood Health, Inc., a nonprofit health care provider, is now providing primary care services at the Gartlan Center on Tuesdays and Fridays.
"They send over to us a primary care physician, a medical assistant, and an enrollment specialist. We have some nursing support and we have a health care integration specialist who helps coordinate all this," Hand said.
According to Laura Yager, CSB director of partnership and resource development, the Gartlan Center is unique because it is open to any client served by CSB.
"You don't have to have a specific diagnosis to get health care," Yager said.
Yager says that most of the models integrating primary and behavior health care focus on just clients with a serious mental illness.
"We serve people with serious mental illness, but also people whose primary issue is substance use disorder, and also people who have intellectual disabilities," said Belinda Buescher, CSB communications director.
THE GARTLAN HEALTH CARE CENTER will also focus on wellness and quality of life, and will provide classes on certain health topics, such as tobacco use and positive exercise.
"We're trying to set Gartlan up as a wellness center, to further reduce the stigma that can be associated with having a disability," said Joan Rodgers, CSB organizational development and training director.
There are multiple reasons a major life expectancy disparity exists for those with serious mental illness or substance abuse problems, including health literacy, socio-economic status, residential problems, transportation problems and financial and insurance problems.
Some also have difficulty navigating the health care system, Hand says.
"I think the health care system has challenges working with folks that have serious mental illness or addiction. There's still a serious stigma out there. When you put all those together, there's numerous barriers to getting that care," Hand said.
For CSB clients, the Gartlan Center will be a one-stop center for all of their medical needs, which Yager says will help to normalize their experience.
"We have people who haven't been to a doctor for a long time who may be afraid to go to a doctor. I don't know anyone who likes to go and take their clothes off for an examination. So if we're talking about people who have layers of inactivity with seeking medical care, we're normalizing that experience for them by having a service that is right there where they are already comfortable getting services," she said.
The integration at the Gartlan Center is operating without a grant, something Yager says is very rare. CSB clients who have a payor source can receive services at the Gartlan Center. Those without insurance are encouraged to check out the Health Department's Community Health Care Network.
"We're providing space and support to make this successful. They are providing medical care. We are two different organizations in one site working collaboratively to help people get health care," Yager said.
CSB sees the Gartlan Center as a place that will bring a sense of community to the south county area.
"I'm picturing yoga classes and all kinds of things where the community is participating," she said.
THE COMMUNITY is encouraged to attend the grand opening of the Gartlan Health Care Center on March 27 from 10-11:30 a.m. RSVP by March 20 to Lara.Larson@fairfaxcounty.gov or 703-324-7027.