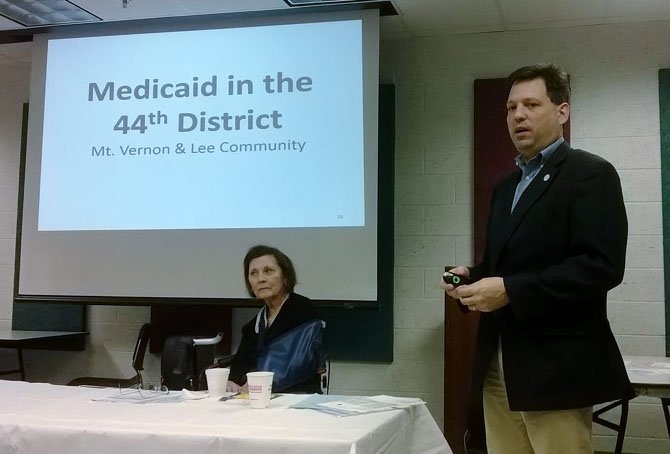 Before heading to Richmond to debate what Sen. Toddy Puller describes as the "biggest battle" that will occur during this session of the General Assembly, Puller joined Del. Scott Surovell and Virginia Secretary of Health and Human Resources Bill Hazel to discuss Medicaid expansion and its possible impact on the Mount Vernon and Lee communities.
At the town hall on March 22, Surovell shared several facts about the 44th district, in which 16 percent of the population is covered by Medicaid.
Of the number of people on Medicaid, 9,371 are children. That means that one in three children in the 44th District receives Medicaid, and most of those children live along the Route 1 corridor, Surovell said.
"For every one of those kids that gets their health care from Medicaid, there's a parent that doesn't have health insurance," Surovell said.
According to Hazel, Medicaid expansion will reduce the stress families have when it comes to health care.
"We do take care of a lot of kids, but kids who have unhealthy parents don't typically do as well. When you look at some of the issues we have with families and youth at risk, stress on families includes lack of health care," Hazel said.
Surovell also pointed out that the 22306 and 22309 zip codes have the highest number of people going to the emergency room for primary health care in the Northern Virginia area.
In addition, Surovell said that although most people don't consider Fairfax County as a place of high poverty, there are more Medicaid deliveries in INOVA Fairfax than any other hospital in Virginia.
On his blog, Surovell has a display that continuously counts how much Virginians have lost in federal funding. Expanding Medicaid, Surovell said, will save taxpayers money, as every year that Virginia does not close the coverage gap, taxpayers will lose $2 billion.
Hazel told the audience that Medicaid expansion would provide health care for 400,000 Virginians.
"It's obviously a huge, huge priority for us and for Governor [Terry] McAuliffe," Hazel said.
According to Hazel, 71.3 percent of those lacking insurance in Virginia are working families.
"Many of these individuals, if you look more in detail, have two, possibly three jobs in the family trying to make ends meet," Hazel said.
Hazel said that 46 percent of uninsured Virginians are white and non-Hispanic. Twenty-four percent of Virginia's uninsured are black, and 20 percent are Hispanic.
"These are folks who frankly, look a lot like the people in this room," Hazel said.
Hazel has been touring the state, along with McAuliffe, and talking to people who would benefit from Medicaid expansion.
"In Emporia, I met a young lady who had stopped working to take care of her aunt. If she wasn't taking care of her aunt, her aunt would be in a nursing home and likely on Medicaid, and the taxpayers would be supporting her in the nursing home. She's taking care of her, but she doesn't make enough money to buy insurance. She went to the exchange, and guess what? She does not make enough money to get the benefit," Hazel said.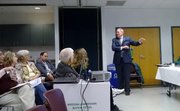 Through his visits to the federally qualified health centers and talks with certified application counselors who help people sign up for insurance through the marketplace, Hazel has been told that 75 percent of the people that are going to the federal marketplace don't qualify because they don't make enough money to qualify.

Hazel said that Medicaid expansion could create 30,000 new jobs.

In the 44th district, Surovell estimated that closing the insurance gap will bring 400 new health care jobs, and will provide 5,337 new people with health insurance.
Republicans in the Virginia House of Delegates oppose Medicaid expansion, and some believe it should be debated separately from the budget.
The Virginia Chamber of Commerce, the Fairfax County Chamber of Commerce, and McAuliffe are among the supports of Medicaid expansion. McAuliffe announced a proposal for a two-year pilot program for Medicaid that has been approved by the federal government on Monday.
"I don't understand the Republicans and their reluctance to embrace this. I can't imagine that they want to keep their constituents from being able to be covered by health insurance. It will save us all money," Puller said.