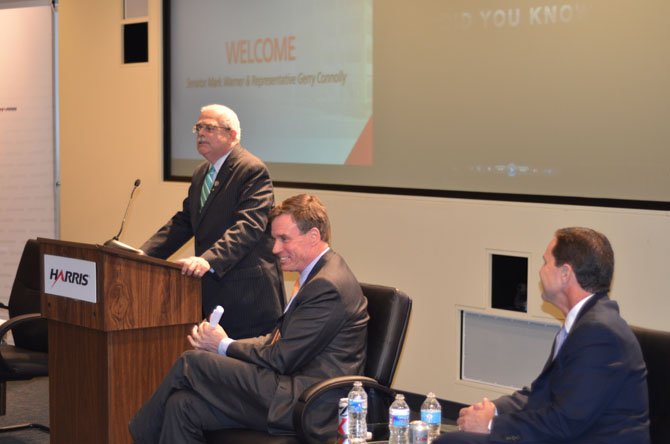 In July 2013, Harris Corporation signed an 11-year lease to consolidate several of its divisions into the 161,000-square-foot Arboretum II office building at 2235 Monroe St. in Herndon. Offices from Chantilly, Dulles, Falls Church, Fairfax and Reston were relocated to the 161,000-square-foot Arboretum II office building.
"It was a seamless transition from the Dulles office to our Herndon office," said Terry Thornton, a vice president and general manager of Intel and Civil Programs. He and many other members of Harris Corp. attended the grand opening ceremony and reception of the Herndon office on March 19. Approximately 500 Harris Corp. employees will be working from the Herndon office.
Federal contractor Harris Corp. (NYSE:HRS) is an international communications and information technology company serving government and commercial markets in more than 125 countries. The building was originally built for BAE Systems, which moved out in 2012. It is also situated near the planned future Herndon-Monroe Metro station.
Fairfax County is the second largest suburban office market in the U.S. and has 32 percent of all the commercial office space in Virginia. At the end of 2013 the commercial real estate market for Fairfax County had an office vacancy rate of 14.9 percent, the highest on record since 1991 according to the FY 2015 Fairfax County Advertised Budget Plan.
"We moved in a month ago in stages," said Rebecca Goodsell, a marketing and communications manager for Harris Corp. "We are now in a much more collaborative environment." Harris employs close to 1,700 persons in Virginia, and the Herndon facility is centered in Northern Virginia's high tech corridor. "What distinguishes Harris from its competitors is the amount of our own R&D dollars we invest in innovative, cutting-edge products and solutions for our customers … this year, over a quarter billion dollars and growing," said Harris CEO William "Bill" Brown.
"This has been a major undertaking to consolidate seven different locations, and I cannot thank the people enough that participated in bringing our teams together," said Harris Corp. Group President Jim Morris. "It was a tremendous amount of work accomplished in record time. We are very pleased with the final product and know that this will support our collective businesses as we grow in the years to come."
Guest speaker U.S. Senator Mark Warner (D-Va.) applauded the work done by everyone at Harris, and praised the research and development teams. Both Warner and U.S. Rep. Gerry Connolly (D-11) had the opportunity to visit tables that displayed Harris Corp. hardware and technologies. Warner pressed for the need for more spectrum availability to meet the growing demand for wireless broadband and radio-based services. "America is not going to stay competitive if we do not free up the spectrum," said Warner.
Connolly asked Harris CEO Brown when Harris would relocate its headquarters to Virginia. "Our winters kill encephalitis and Burmese pythons," quipped Connolly. Currently Harris Corp. offices are in Melbourne, Fla. "You have chosen to locate in the most important economic corridor in Virginia…we are delighted you are here," said Connolly.
To learn more about Harris Corp. visit www.harris.com.