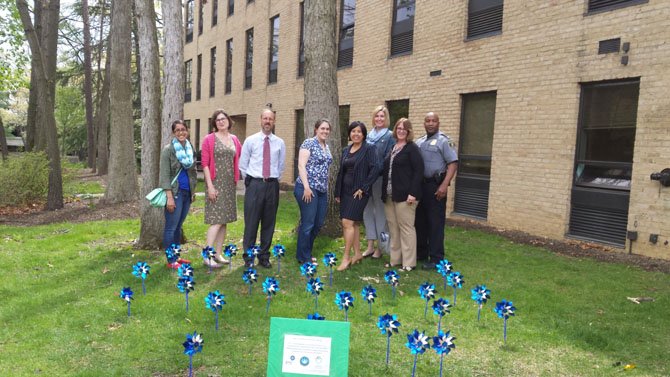 The Center for Alexandria's Children joined in a nationwide public awareness campaign that puts a new spin on child abuse prevention when it planted a Pinwheel Garden today at its office on North Beauregard Street.
The pinwheel, the national symbol of Child Abuse Prevention and a symbol of childhood, represents the efforts of Prevent Child Abuse Virginia to demonstrate the importance of ensuring healthy, happy and full lives for all children in the community.
Members of the center's multidisciplinary team, including city detectives, social workers, therapists and attorneys, joined together to plant 40 pinwheels to honor Alexandria children who have been harmed and yet thrived despite adversity. The garden serves as a symbol of hope and resilience as well as a visual reminder that all children deserve a healthy, happy, and carefree childhood, free from abuse and neglect.
The Center for Alexandria's Children is a public-private partnership that protects children and strengthens families by utilizing a national Child Advocacy Center model that coordinates the investigation, prosecution, treatment and prevention of child abuse in one safe, child-friendly facility. The Center's primary goal is to eliminate child abuse in the City of Alexandria.
For more information about the center visit: www.centerforalexandriaschildren.org.