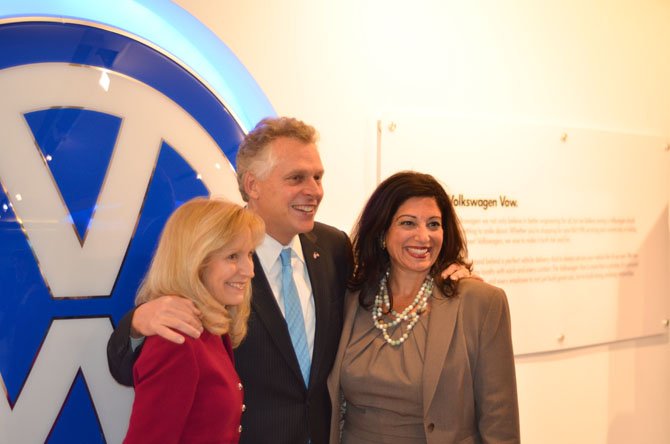 Fairfax County Economic Development Authority hosted an evening networking session at the headquarters of the Volkswagen Group of America in Herndon on April 30. The program was titled Fairfax County: Where International Companies Do Business in the U.S. A special guest of the event was Governor Terry McAuliffe (D) who spoke about plans of attracting federal projects to Northern Virginia, and hopes regarding Virginia's education program.
"This is something we do every two to three years," said Gerald L. Gordon, president and CEO of the Fairfax Economic Development Authority (FCEDA). "We now have more than 400 foreign-owned companies from 45 countries in Fairfax County," said Gordon. "We are fortunate to have five overseas offices," said Gordon.
GORDON INTRODUCED Governor McAuliffe, 72nd governor of the Commonwealth. McAuliffe underlined his efforts to attract international investment in Virginia and diversify the state economy. "I am competing with 49 governors and more than 200 nations for jobs," he said. "Forbes magazine named Virginia the number one state for business in 2013, and I want that to continue." Governor McAuliffe noted the state's assets for international investment and trade, including Washington Dulles International Airport.
McAuliffe said the Dulles airport would be attracting more international airlines. "Air China will begin offering direct flights between Washington Dulles International Airport and Beijing beginning June 10," he said. The national capital area joins the airline's five U.S. existing destinations, service that includes Los Angeles, San Francisco, New York, Houston and Honolulu.
McAuliffe drew attention to work securing federal projects to Northern Virginia. "I am working on bringing the FBI headquarters here," said McAuliffe. "We have the best spot for it." A location in Springfield offers two options for the General Services Administration (GSA), which is planning the FBI's new headquarters location. Virginia politicians on the federal, state and county levels have been lobbying to promote the benefits of the Springfield site which is near the Franconia-Springfield Metro Station.
The governor also referenced a "White House Cyber-Campus" which he will promote for Northern Virginia. "We want it in Virginia, we have the best assets to do it," said McAuliffe. In March, President Obama announced plans for a campus as part of budget proposal for Fiscal Year 2015, which begins Oct. 1.The GSA expressed interest in a 650,000-square-foot civilian cyber campus, a project that would provide space for agencies including the DHS and Department of Justice.
THE GOVERNOR also stressed the importance of education. "Education is a top priority for me," said McAuliffe. "One of my goals is for all children to have access to pre-kindergarten education." He mentioned his achievement of visiting all 23 community colleges in Virginia. "I am promoting Virginia," said McAuliffe. "The number one place to do business? Virginia, folks!"
The FCEDA promotes Fairfax County as one of the world's best business locations. The FCEDA is an independent authority chartered by the Commonwealth of Virginia. For more information about FCEDA, visit www.fairfaxcountyeda.org.