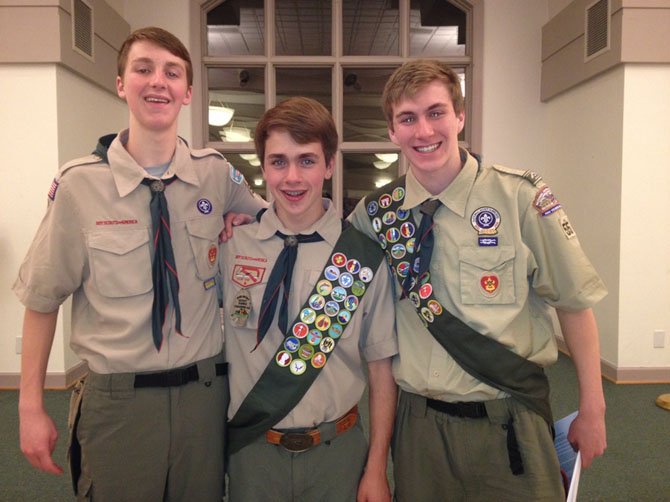 Troop 55 in Great Falls recently announced the advancement to the rank of Eagle Scout of four young men: Patrick Ryan, Conrad Dear, Bennett Molster, and Ryan Withers. These scouts have earned at least 21 merit badges, and have demonstrated scout spirit by living the scout oath and law through years of service and leadership. They have each also planned, organized, led and managed extensive service projects.
Patrick Ryan, a sophomore at Thomas Jefferson School for Science and Technology, joined the troop in 2009. Patrick spearheaded his Eagle project in August 2013. It entailed the building of a fenced 20' x 40' garden at Camp Fraser in Great Falls. The garden is used by Living Classrooms, Washington D.C., to teach sustainability and to provide underserved city youth population with hands-on outdoor education. Patrick hopes to pursue a career in engineering once he finishes high school.
Conrad Dear, a junior at Langley High School, joined Troop 55 in 2008 when he crossed over from Cub Scout Pack 673. He has enjoyed scouts from the early days as a cub scout to the present day as an Eagle Scout. Conrad lead his Eagle project in Sept 2013. It entailed the building of three portable fly rod racks to support Project Healing Waters, a non-profit organization dedicated to helping wounded veterans through fly fishing. Conrad hopes to pursue a career in the math and science fields.
Bennett Molster, a senior at Langley High School, joined the troop in 2006 and has enjoyed the outdoor trips and being with his friends during the outings. For his Eagle Project, Bennett coordinated the collection of new and gently used DVD's and shipped them to military personnel stationed overseas and on ships. He has not yet decided which college he will attend but hopes to study Business.
Ryan Withers, a senior at Herndon High, has been with Troop 55 since 2006. He has stayed with scouts because the program teaches excellent life skills and principles. For his Eagle project, Ryan led a team of scouts in building wooden games to be used by St Francis Episcopal Church during their annual Country Fair. The young men also painted several of the existing games that showed signs of aging. Ryan will be studying engineering at Virginia Tech next year and hopes to work on the development of a manufacturing system for automobiles that reduces cost, resources and time.