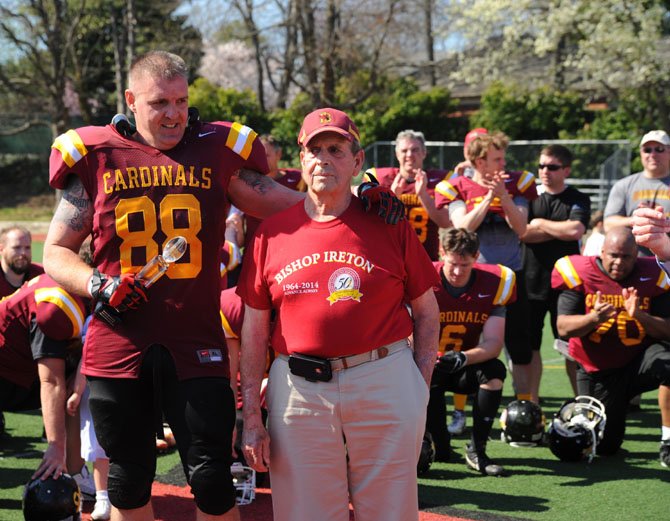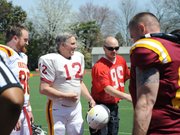 Alexandria — The helmets, pads and jerseys of years gone by were dusted off as 72 Bishop Ireton alumni suited up for a full contact football game April 12 to raise money for the Sean O'Malley Scholarship Fund.
More than 500 people turned out at Fannon Field on the BI campus to watch players from as far back as the class of '68 take to the field for a game that also helped celebrate the school's 50th anniversary.
"These guys played a full 60 minutes of football," said Ryan Fannon, BI's Director of Advancement. "No one was injured, everyone had a great time and the goal of raising $25,000 for the fund was surpassed."
The game — coincidentally played on what would have been O'Malley's 43rd birthday — raised more than $25,000 for the scholarship fund named in his memory. A graduate of the BI class of '89, O'Malley was a standout in the BI football and wrestling programs before becoming an ALL-SEC defensive lineman and member of the ALL-SEC Academic Team at 'Ole Miss. He went on to create the world-renowned fitness company Cardio Coach.
Following his death in 2012, O'Malley's family and friends created a need-based scholarship for a football and/or wrestling student at Bishop Ireton.
Coordinated by Cammeron Ripley from Alumni Athletics USA and Derek Radoski, BI Class of 1989, the game featured a Red and White team made up of former players dating from 1968 through 2013.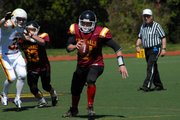 With an average age of 27, the White Team was coached by current BI head football coach Tony Verducci. Sean O'Malley's cousin and current Ireton assistant coach James Paino led the team out on the field. A slightly older Red Team (average age 36) was coached by former BI head football coach Chip Armstrong. Sean's father, Charles O'Malley, led the Red Team out on the field.
They played modified rules football, which eliminates the kick off, to help avoid injuries.
The oldest player for the White Team was Marty Marinoff, a member of BI's first graduating class in 1968. Marinoff sported his original football jersey from the '60s as the White Team prevailed over the Red Team with a final score of 25-6.
"It was the coolest thing to see these guys put on their pads one more time," Fannon said. "Sean's father was very touched by the outpouring of support in memory of his son and for everyone, it was just a really great day."
For more information on the Sean O'Malley Scholarship Fund, visit www.bishopireton.org.