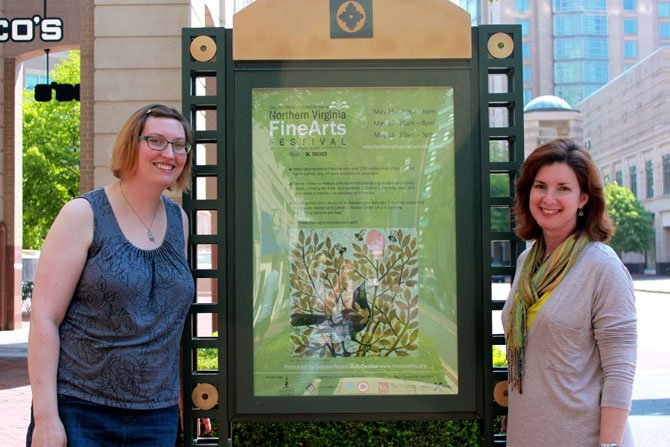 One of the largest outdoor festivals on the East Coast will come alive in Reston Town Center this weekend.
The 23rd annual Northern Virginia Fine Arts Festival will fill the streets with more than 200 artists and street performers on Friday, Saturday and Sunday, May 16-18, to raise money for Greater Reston Arts Center.
"If you can think of a form of art, you'll probably find it there," said GRACE associate curator and festival manager Erica Harrison.
Many types of media, ranging from jewelry and wooden cutlery to massive metal kinetic animals and intricate block prints will be represented at the juried, outdoor festival.
"It's a great opportunity to buy gifts for weddings or parents," said Harrison.
GRACE Director and Curator Holly Koons McCullough said the festival offers something for everyone because of its festival-like atmosphere. In addition to a bevy of street performers in the town center, there will be hands-on science crafts for children.
"The festival is actually our major fundraiser of the year," she said. "We have been here for 40 years and this is how we promote ourselves to the community."
The festival is one of the 25 top art festivals in the country, she said, and more than 800 artists applied this year to secure a table. Nearly a quarter of the artists are from the D.C. metro area, and some are coming as far away as Canada and Washington state.
"The setting in Reston Town Center is very desirable because it's a pedestrian-run area," she said.
This will be the first year the festival will have "soft gates," said Harrison. A suggested donation to enter is $5 and includes a program guide with coupons to local restaurants. Tickets can be bought in advance for $4 on GRACE's website. Visitors 18 and under are free.
"A lot of the top ranked festivals are $20, $25 dollars to enter, and that's how they fund themselves," said McCullough. "We hope it's not too much to ask."
Additionally, the festival adds Friday and extended hours on Sunday in case shoppers or retail salespeople want to browse the art. GRACE will also have extended hours for those who want to wander through the gallery.
What and When
Northern Virginia Fine Arts Festival, May 16-18.
Reston Town Center, Friday, 5 - 8 p.m., Saturday, 10 a.m. - 8 p.m., Sunday 10 a.m. - 5 p.m. $5 suggested donation for adults
Last year, about 30,000 people showed up. With the extended hours, McCullough hopes to convince more people in the D.C. metro area to visit the festival.
"We're looking forward to having a successful event this year," she said. "We want it to be the not-to-be-missed event in Reston Town Center."
For more information or directions to the event, visit http://northernvirginiafineartsfestival.org/