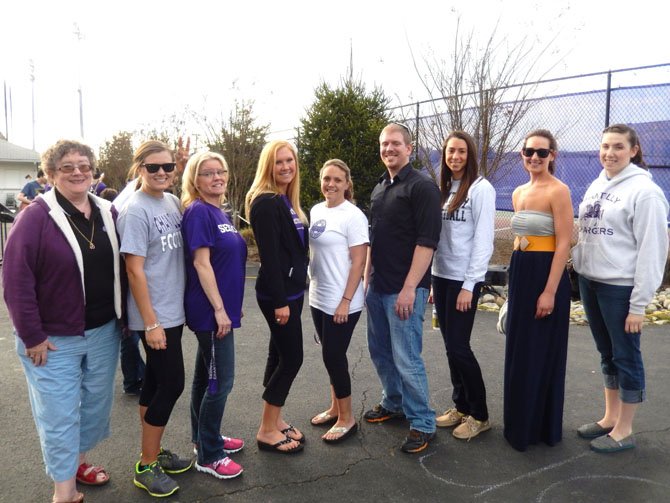 Chantilly High celebrated its 40th birthday, Friday evening, May 2, and alumni from several different graduating classes returned to participate in the festivities. They took SGA-guided school tours, viewed exhibits of current programs and learned Chantilly trivia.
They also saw displays of Charger sports accomplishments while enjoying both chocolate and vanilla birthday cakes. The Robotics Team exhibited its award-winning technology and the SGA presented a Powerpoint of the school's history.
In Thunder Alley, leading to the football stadium, economics teacher Joe Clement cooked hot dogs and hamburgers, while attendees got commemorative T-shirts and perused tables covered with athletic trophies and signed photographs of championship teams. Meanwhile, the Chantilly Jazz Combo entertained the crowd near the tennis courts and alumni hugged old friends and shared reminiscences from their time at the school.
"There were no back walls or doors to the classrooms when I was here," said Carmen Wise, class of 1994. "When you sat in class, you could hear five different teachers talking. The old spirit shed outside the school [along Stringfellow Road] was a huge tradition since 1974. Teams would write on it when they won state championships, and guys would also ask their dates to the prom on it."
Wise has taught health and P.E. at Chantilly since 2002 and is delighted to be there. "I'm proud to be a Charger," she said.
Assistant Principal Shawn Heilemann also returned to his alma mater. In his third year at the school, he was a 2001 Chantilly grad. He belonged to the National Honor Society then and helped build sets for the theater productions.
"I remember all the friends I had and what a good community it was," said Heilemann. "And the spirit shed — I asked a girl to Homecoming on it and she said yes."
Kevin Mocabee, class of 1979, now lives in the Cabell's Mill community with his family. His daughter Rachel will graduate from Chantilly in 2015. It's a regular high school now but, when it first opened in 1974 — Mocabee's first year at Chantilly — it was a secondary school. It had grades seven through 10 and he was a seventh-grader.
"There were no walls, and few chairs or tables when it opened, just blackboards," he recalled. "Kids sat on the floor and took notes on their laps. Since the classrooms didn't have walls, you had to concentrate a little more to stay focused on your class."
But, said Mocabee, "There were lots of fun activities. I was in the choir and we'd do exchange trips. We'd go to the home of another school's chorus member in another state, and then we'd host them."
Sarah DeCenzo, class of 2009, is in her first year teaching math at Chantilly. "I loved this school," she said. "I always wanted to be a math teacher and come back and teach here. The community's great and all my colleagues were such a help this year."
"The kids and faculty love Chantilly and we all support each other," she continued. "Everyone rallies around each other and we support the school's activities and sports. And we always form strong relationships with the students. I coach cheerleading here and did it, myself, as a student."
As for the school's 40th birthday, DeCenzo said, "I think it's great that we're celebrating being here. I like learning about what happened before I got here. It's our time to show off our school — all our accomplishments and everything we've done."
Photo Gallery
Reminiscences and Remembrances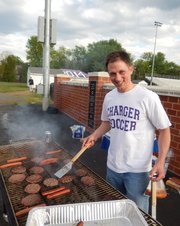 Click Photo for Flash