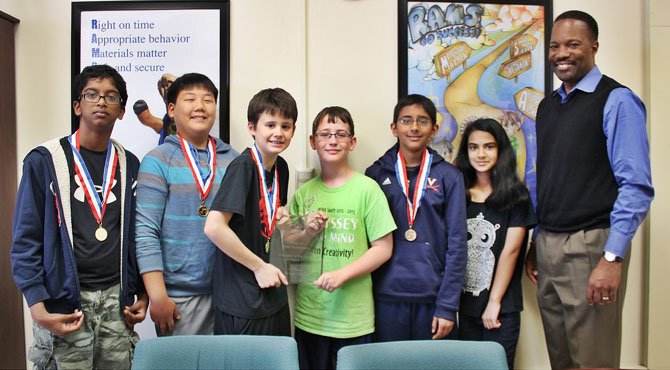 Chantilly — Rocky Run Middle School's Odyssey of the Mind "Driver's Test" team are advancing to the World Finals at Iowa State University from May 28-31, where they will compete against hundreds of teams from across the U.S. and more than 25 other countries.
The team, comprised of Rocky Run seventh graders Daniel Hwang, Matthew Lichtblau, Bharath Maniraj, Rahil Shah, Maxwell Tabarrock and Shree Trivedi, spent several months solving the "Driver's Test" problem, which involved designing and building a vehicle with two different propulsion systems, a GPS and a directional signal. The vehicle, driven by a student driver character, was required to complete specific tasks as part of a team-created driver's test that was administered during a humorous 8-minute performance. Team coaches D'Arcy Roper, Alex Tabarrock, Monique Van Hoek and Wendy Werve will accompany the students to the World Finals.
Odyssey of the Mind is an international program for students from kindergarten through college that promotes creative problem-solving and teamwork.
In addition to the Driver's Test challenge, this year problems included presenting a Haunted House performance that features pop-up special effects, performing a humorous Classics-based skit featuring a King's Court, a Royal Court and a team-created instrument, building a balsa wood structure that holds weight, and giving an original performance about a community that feels threatened by something in a location it has never visited.
There is also a "Spontaneous" component to the competition during which teams are required to solve a variety of verbal and hand-on problems by thinking on their feet.
For more information about the Odyssey of the Mind program, visit www.odysseyofthemind.org