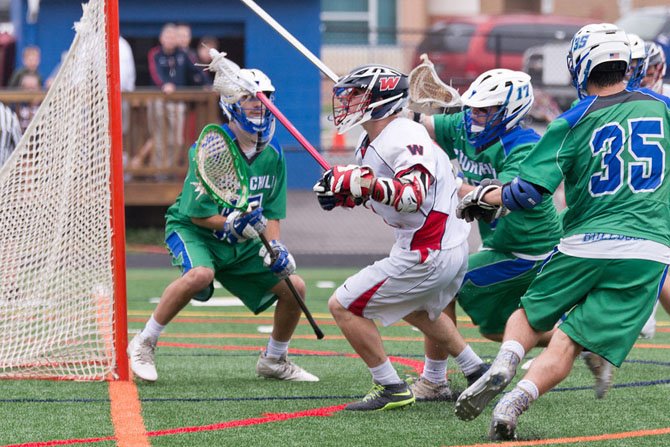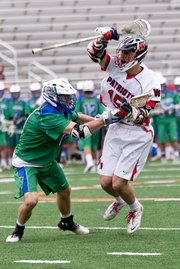 In 2012, the Churchill boys' lacrosse team snapped Wootton's streak of six consecutive region championships, beating the Patriots in the 4A/3A West semifinals. The Bulldogs went on to win the region title and repeated as champions in 2013.
On May 14, the rival schools met in the 2014 region final. This time, it was the Patriots knocking the champions from its throne.
Wootton defeated Churchill 14-12 to capture the 4A/3A West region title on a Wednesday night at Wootton High School. The Bulldogs, making their third consecutive region final appearance, got six goals from University of Maryland commit Louis Dubick, but the Patriots took a first-quarter lead and held on for the final 39-plus minutes.
Wootton advanced to the state playoffs, where they lost to South River 10-7 on May 16 at Northeast High School in Anne Arundel County. The Patriots finished the season with a 17-1 record.
"My freshman year is the last time we won [the region title] and I just know the feeling — I really wanted to get it back," Wootton senior Austin Schoenfeld said. "It was hard to get all the seniors wrapped around how good it feels and how much work really needs to be put in, but we definitely put in the work and it shows. …
"It means more because all my senior boys are with us. It's our last home game ever and winning it on our home field against Churchill just makes it bittersweet."
Schoenfeld led Wootton with four goals and three assists. Jake Mitchell finished with three goals and Mike Kim had two. Myles Romm, Matt Saltzman, David Siegel, Jake Dunlop and Justin O'Daniel each had one.
Patriots goalkeeper Patrick Cornelius finished with 23 saves.
"It feels great. They took it away for two years, now to play them in the region championship; it's nice to come away with this win."

— Wootton boys' lacrosse coach Colin Thomson
While Wootton held the lead for most of the contest, the Patriots never led by more than four goals. Churchill continued to battle, pulling within one early in the third quarter and within two late in the fourth, but the Bulldogs couldn't complete their comeback attempt.
Wootton won the regular-season meeting between the teams, 14-6, on April 26.
"We've worked real hard in practice the last three weeks and we're a much better team than we were three weeks ago," Churchill head coach Jeff Fritz said. "We progressed, we got real good, [but] tonight, no bounce went our way, no call went our way. We just couldn't get over that hump. We were there, we were tight the whole time, but just couldn't make the play at the time we needed to."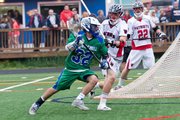 Dubick's six-goal performance was one of the primary reasons the Bulldogs were able to hang around.
"He was hot," Wootton head coach Colin Thomson said, "and we threw everything at him except the kitchen sink at one point."
Dubick, who also had an assist, credited the Churchill defense for keeping the Bulldogs in the game.
"We didn't put the ball in the back of the net when it mattered," Dubick said. "We got a lot of great looks tonight. … Our D gave us a chance to win, that's all you can really ask. [Goalkeeper Matt] Gloger played huge in the cage, our D stepped up when we needed it, bottom line is we didn't finish today."
Gloger finished with nine saves.
"I thought Matt Gloger," Fritz said, "… played the best game of his career tonight."
Derek Altobello and Nick Muscarella each had two goals for Churchill. Matt Moshyedi and Daniel DiBono each had one.
Fritz was pleased Churchill, which finished 13-4, reached the region final for a third straight year.
"We're a program. We don't rebuild anymore, we just reload," he said. "We've got a great JV program with a great JV coach. Our guys are involved — if they're not playing a second sport, they're involved in lacrosse year-round now. They're doing all the right things."
On this night, however, it was Wootton taking home the title.
"It feels great," Thomson said. "They took it away for two years, now to play them in the region championship; it's nice to come away with this win."