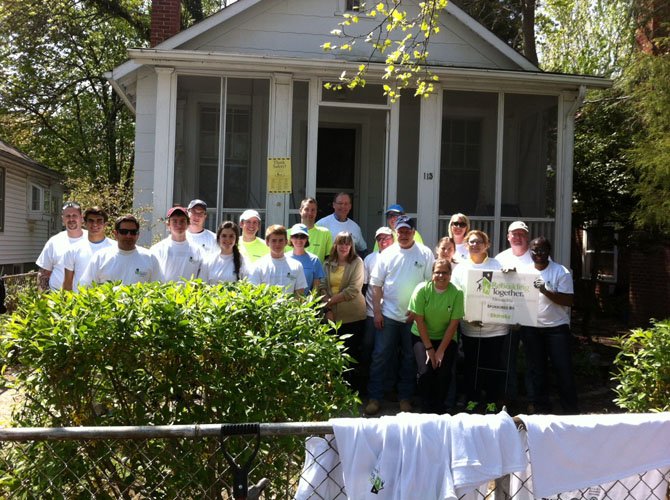 Alice* is a D.C.-native who moved to Alexandria in the 1970s for a job. She and her husband built a life in this "sleepy, southern town," eventually buying a home. They watched as the small town grew into a bustling mini-metropolis, spurred by the Metro. Despite the growth and change, Alice believes her neighborhood was "just as lovely then as it is now."
Over the years, Alice has suffered from disabling medical conditions and weathered the loss of several family members, including her beloved husband. The fond memories she has of her life in Alexandria remain and carry her forward. As she walks through her house, she notes that the kitchen is her favorite room. A trained chef, her husband was an amazing cook, and her happiest memories were watching him work his magic in the kitchen.
Unfortunately, the city's transformation, her health issues, and the loss of her husband have made it very difficult for Alice to maintain the house she loves. She was first referred to Rebuilding Together Alexandria several years ago when she sought tax relief after skyrocketing property values made it impossible to afford her tax bills. As a self-proclaimed "pack rat," she finally reached out to us last year to help her de-clutter as well as fix more serious problems in her house.
Since then, Rebuilding Together Alexandria volunteers have provided a myriad of fixes and upgrades to make Alice's home a safer and healthier place. They fixed her steps, gutters, roof, and yard and installed outdoor lighting and support for the front and back handrails. The volunteers — many from Rebuilding Together's major sponsor Skanska — upgraded trim in the back of the house, replaced screen in the screen door, repaired a bathtub handle, and put in a window air conditioner. What the volunteers enjoyed most though was installing a fence around the backyard so Alice's dog can play.
Embracing the southern charm of her adopted city, Alice is always one of the most expressively grateful homeowners, constantly sending "Thank You" cards that chronicle the work and mention volunteers by name. Recently, when our volunteers came to help, she worked alongside them at times and was excited to learn more about each volunteer. She joined them for a picnic in the front yard. Tears come to her eyes as she reminisces about the beautiful day, the memories her home holds, and the volunteers' generosity. And again, this private, sweet woman says "thank you."
If you would like to volunteer, donate, or need repairs, visit www.rebuildingtogetheralex.org or call 703-836-1021.
*It is Rebuilding Together Alexandria's policy to not disclose full names.