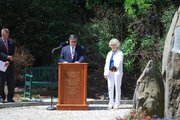 A brass bell rang 25 times Monday, each ring representing an individual of Great Falls who died serving, or in an attack on, America. The rings resonated through the Great Falls Freedom Memorial while Calvin Follin of Great Falls read their names during the Memorial Day ceremony to about 80 veterans and community members.
"Memorial Day gives us an opportunity to pay respect to the marines, soldiers, sailors and airmen who fought for our country and the American people so that this nation might live," said Retired Lt. Col. Dominik Nargele of the United States Marine Corps, the keynote speaker.
Nargele is a veteran of Vietnam and was also a Naval Representative of the U.S. Military Liaison to the Group of Soviet Forces in East Germany. Nargele was fired on by Soviet troops and detained six times during his tour.
Looking through American history and recalling the Battles of Trenton and Gettysburg, Iwo Jima and D-Day, "incredible bravery and courage were a common virtue" of American soldiers, Nargele said. "By working to make America better, we can make Memorial Day a daily activity of honor, caring and respect for our country, for our Bill of Rights, for our Constitution and our freedom from sea to shining sea."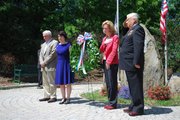 After Nagele's speech and the name reading, State Senator Barbara Favola (D-31), U.S. Rep. Frank Wolf (R-10), Virginia Del. Barbara Comstock (R-34) and Lt. Col. Nargele laid a wreath by the memorial. Melissa Shuey, a student at Langley High School, played Taps on her trumpet. Then Boy Scout Troop 55 raised the flags from half-mast to full-mast at noon.
"We all have busy lives, so the ceremony is for us to take time and appreciate our veterans' sacrifice," said Sara Hilgartner of Great Falls. A founding member of the Friends of the Great Falls Freedom Memorial, she and her husband, veteran Pete Hilgartner, originally came up with the idea for the memorial in 2002.
"It is important to remember the veterans who gave their lives for this country," said Andy Wilson, president of Friends of the Great Falls Freedom Memorial, in his closing remarks. "Remember the stories. Tell the stories. Share the stories. We can never repay the debt we owe to our veterans, but we can assure the gratitude never ends. Keep their stories alive."