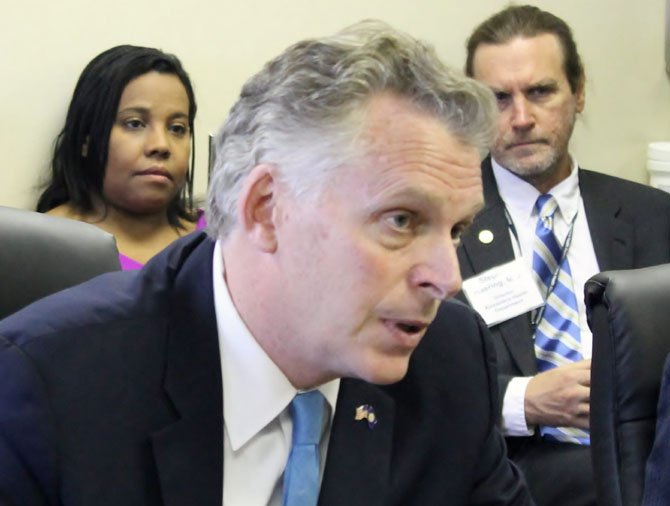 After Virginia Governor Terry McAuliffe vetoed a bipartisan ethics bill last week, the bill's co-sponsors, Del. Scott Surovell (D-44) Del. David Ramadan (R-87) and Del. Jim LeMunyon (R-67), joined other lawmakers throughout the state in expressing their disapproval of the decision.
Surovell and LeMunyon's bill, House Bill 1212, also had a Senate counterpart, Senate Bill 650, which was vetoed by the Governor.
The bills concerned the Governor's Development Opportunity Fund and would prohibit the governor from seeking or accepting gifts over $50 from those seeking money from the fund. The law would also apply to the governor's campaign committee and political action committees established on behalf of the governor.
"The Governor's Office is already prohibited from soliciting contributions while negotiating public-private partnerships. I saw this as a logical extension of that prohibition," said Del. Surovell in a statement on May 23.
BOTH BILLS were passed unanimously by the General Assembly. The senate version was sponsored by a majority of the Senate, including Sen. Richard Saslaw (D-35).
"The Governor's veto is disappointing. The concerns that were raised by representatives of the Fund during committee consideration of the bills were reflected in amendments made in committee to accommodate those concerns," Del. LeMunyon said in a statement on May 23.
McAuliffe's veto comes after his proposed amendments to place that same limit on legislators were rejected by the General Assembly on April 23.
"First, while grants are awarded by the Governor from the GOF, the General Assembly approves and votes on its funding; therefore the provisions and protections for ethical standards associated with these awards should also apply to legislators," McAuliffe wrote in an explanation of the veto.
"Additionally, requiring the 2015 Session of the General Assembly to reenact this bill would allow appropriate time to determine the best means for review and implementation. These measures would avoid unintended consequences and protect confidentiality for ongoing economic development projects. These recommendations were not adopted," he wrote.

THE GOVERNOR'S Development Opportunity Fund provides loans or grants to businesses as an incentive for moving or expanding in Virginia. The fund is currently valued at $35 million.
"I had hoped the Governor would sign this legislation, given its overwhelming support. According to Virginia's Constitution, there is not an opportunity to override the veto at this point in the legislative process. However, I look forward to re-introducing the bill next year and working in a bipartisan way to enact it into law," LeMunyon said.
Ramadan also said he was disappointed with McAuliffe's veto.
"Our Ethics bill would have added a level of trust of the administration which will be negotiating public-private partnerships with millions of dollars of taxpayers' money from the Fund," he wrote in a statement on May 23.
The General Assembly has passed ethics legislation this year in response to the indictment of former Republican Governor Bob McDonnell and his wife for accepting gifts from businessman Jonnie Williams in exchange for promoting dietary supplement products.