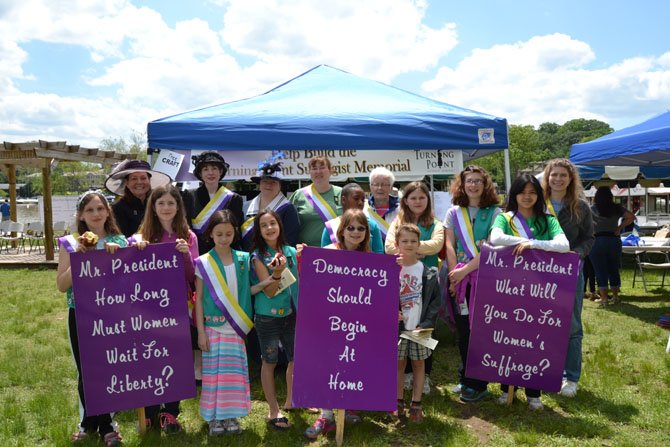 On Saturday, May 17, the Girl Scouts of Troop 707 of Springfield manned a booth at the Occoquan River Festival for the Turning Point Suffragist Memorial (TPSM). A few weeks ago, the Girl Scouts met with TPSM Association member, Myra Lindsey, during their regular scout meeting to learn about the history of women in the United States who protested for the right to vote. These women were called Suffragists.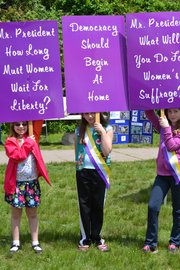 The suffrage movement began in the United States in 1848 at the Seneca Falls Convention, an historic meeting of over 300 people who discussed the numerous inequities that women suffered under the U.S. legal and political system. Decisions were made at that convention that began a civil rights movement to advance women's rights such as the right to pursue a college education, the opportunity to enter various professions then closed to women, and of course, the right to vote in U.S. elections.
In 1917, in retaliation for daring to picket at the front of the White House gates on 1600 Pennsylvania Avenue, more than 70 suffragists were imprisoned in the Occoquan Workhouse, located within the Lorton Prison complex. The imprisoned women were beaten. When they refused to eat, the women were force fed in the prison. The entire country learned of the terrible, inhumane treatment of the women, which became a major "turning point" in their efforts to introduce and ratify the 19th Amendment. It wasn't until 1920 that the 19th Amendment was ratified, giving women the right to vote.
The girls of Troop 707 hail from three different elementary schools in Springfield: Cardinal Forest, Keene Mill, and Sangster. The Troop's community service will help them earn their Bronze Award, the highest award for Junior Girl Scouts in the 4th and 5th grades. They baked goods, sold them at the TPSM booth, and donated the proceeds to raise money for the memorial. The girls also handed out pamphlets about the memorial and talked with the public at the festival. Plans are underway to build the Turning Point Suffragist Memorial in Lorton, as part of the Northern Virginia Regional Park Authority. The memorial will include plaques bearing the names of the imprisoned women, informational and educational stations, and a meditation garden. The TPSM Association is a nonprofit organization. If you'd like to help or make a donation to this memorial, go to the TPSM website, www.suffragistmemorial.org for more information.