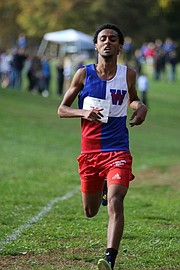 T.C. Williams senior Anteneh Girma didn't feel like he was running all that well as he worked his way around the course at Burke Lake Park.
As he came down the final straightaway, however, his disappointment turned to happiness.
Girma glanced at the clock and saw he was just over 15 minutes. His official time was 15:06, a personal best.
Girma placed fourth at the Conference 7 meet on Oct. 30, earning him a trip to regionals. Girma finished 14 seconds faster than Woodson's Robert Lockwood, the fifth-place finisher.
"I'm not trying to prove anything," Girma said. "I'm just trying to stay with the Lake Braddock people. ... I just try to use them to make me better."
Lake Braddock produced the top three finishers, including champion Alex Corbett, whose time of 14:47 was the 11th-best in the history of Burke Lake.
Girma didn't have to celebrate his accomplishment alone. The T.C. Williams boys' team qualified for regionals as a group with a top-four finish.
The Titans produced a score of 107, with two harriers earning individual all-conference (top 15) honors.
Along with Girma's effort, T.C. junior Alex Heimberg placed 15th with a time of 16:06.
Benjamin Thomas finished 28th for the Titans with a time of 16:53. Jack MacKay was 29th (16:55) and Grant Chamberlain finished 31st (17:00).
"I'm proud," Girma said. "I wasn't expecting them to come with me. It's the first time I've ran with a team to regionals because I'm usually going by myself. It's going to be something new. I'm proud of them."
Lake Braddock won the team title with a score of 22. West Springfield finished runner-up with a total of 58, followed by Woodson (96), T.C. Williams (107), West Potomac (118), Annandale (141) and South County (207).
The T.C. Williams girls' team finished sixth with a score of 149. Lake Braddock won the team title with a total of 19, followed by South County (70), West Springfield (75) and West Potomac (91).
Freshman Gloria Reed was the Titans' top finisher, placing 18th with a time of 19:23.
The 6A North region meet was held Wednesday, Nov. 5 at Burke Lake Park.
The 6A state meet will be held Saturday, Nov. 15 at Great Meadow.