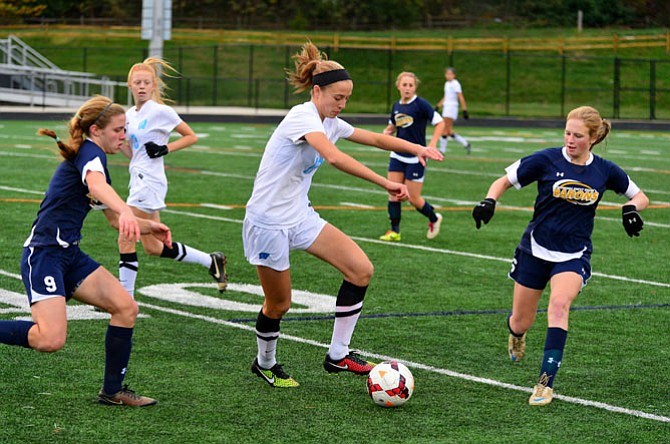 The Whitman girls' and boys' soccer teams each captured a state championship during the weekend at Loyola University in Baltimore.
The girls' team repeated as 4A champs with a 1-0 victory over Howard on Saturday, Nov. 15. With the victory, Whitman completed an undefeated season (17-0).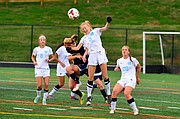 "It was an amazing feeling of accomplishment and pride," Whitman head coach Greg Herbert wrote in an email. "We do set a goal each season of winning every home game, winning the region and winning the state but early on this season I'm not sure the girls believed they could do that. It took time to mold the mental make-up of this team and make them believe in themselves the way that I did and convince them that they could do the impossible if they dedicated themselves to excel each and every day. And to do just that and come out of this loaded division, section and region unscathed and run the table the way we did is really just a testament to the mental make-up and technical ability of these girls.
"To think that after last year's successful championship run that we would even better ourselves this season is mind-blowing."
After a 12-0 regular season, Whitman defeated Walter Johnson and Bethesda-Chevy Chase before beating Northwest, 1-0, in the 4A West region final on Nov. 4.
The Vikings beat Eleanor Roosevelt, 3-1, in the state semifinals on Nov. 7.
For the season, Whitman outscored its opponents 50-7.
How did this year's Vikings compare to the 2013 title team, which finished 16-1-1?
"The teams' seasons are actually very different from each other," Herbert wrote. "Last year, I think the whole team expected to come away with a state championship and was just so driven to do it. This year's team came in with so many new players and questions that we really didn't know what to expect.
"Last year, the team knew that they were destined for success but this year's team took longer to find its identity and I think once it did it found that it could be unbeatable. I think what we see as the true difference between the two teams was the way each team played. This year required the whole team to work together as one cohesive unit from the first to the last player in order to be successful whereas last year, we leaned so much more on a core group of 3-5 players to carry us through. That's why I feel like this season was more of a team championship."
This year's team captains were Emma Anderson, Clare Severe, Erin McClanahan and Lindsay Wytkind. Herbert said senior Lela Walter came up big during the postseason.
One day earlier, the Whitman boys' team defeated Chesapeake, 4-1, to capture its first state title since 2009.
Whitman's Davey Mason scored a pair of goals in the state final. Andreas Djurhuus and Aaron Tanenbaum each scored one.
The Vikings finished 15-3-1, including a 2-1 victory over Gaithersburg in the 4A West region championship match on Nov. 4.
"It was an awesome experience," Herbert wrote about the Whitman girls' and boys' soccer teams winning state titles in the same weekend. "Dave Greene, the boys' coach, and I have talked about just this same situation for several years now about how great it would be if we could do this together one season and now to finally have it happen is just amazing. The fact that we could both bring home the hardware for the school and the community is just something that we really appreciate and are proud of doing. There is actually a brother/sister combination (Alex Harris on the boys' team and Ellie Harris on my team) on the teams. What an amazing time for that family to have a member of each state championship team living under one roof."