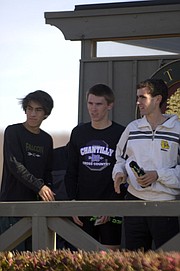 Chantilly senior Ryan McGorty at the conclusion of the state meet questioned whether he made the right decision.
McGorty pushed the pace early in the 6A boys' race, taking an early lead. The strategy had worked when McGorty won the Monroe Parker Invitational at Burke Lake Park in early September, so why not give it another shot?
On Saturday, McGorty's move cost him as he ran out of gas near the end of the Great Meadow course and several harriers passed him. Lake Braddock senior Alex Corbett, who won the 6A North region meet on Nov. 5, won the individual state title with a time of 15:08 on Nov. 15. Bruin teammate Kevin Monogue finished runner-up with a time of 15:19, followed by Cox junior Jonathan Lomogda (15:21).
McGorty, who recently signed with William & Mary, placed fourth with a time of 15:26.
"Honestly, I was initially disappointed about the race," McGorty wrote in an email. "If I would have just run with the pack I feel like I could have finished higher, but I would not have had a chance to win."
While McGorty didn't capture the state title, he still earned all-state honors with his fourth-place finish.
"Alex is a very strong runner," McGorty wrote. "When I beat him earlier in the year I was able to get a lead and keep it so my plan was to go for the lead and try to press the pace as much as I could. I paid the price and died a little at the end when I was passed by a group, but I'm happy I went for the win instead of just racing with everyone. The Lake Braddock athletes and coaches did an excellent job of preparing for the meet and being at their best when it counted most. They ran great."
Lake Braddock won the team title with a score of 41. West Springfield finished runner-up with a total of 92. Two-time defending state champion Chantilly took third with a score of 105, followed by Oakton (124), Robinson (146), Cosby (177), Ocean Lakes (181) and Washington-Lee (201).
"Overall, I think this season was great," McGorty wrote. "I was fortunate to win a few invitationals this season, which was such a great feeling. More important though was how coach [Matt] Gilchrist brought the team so far this season. When we started, I didn't even think this group would make it to states, so to go and finish third as a team was amazing. So many of our runners improved a lot over the season. It's been so fun to be a part of a team like this. Personally, I'm really looking forward to seeing how well I run at the south regional Foot Locker meet next week. I really want to run the best I can."
Westfield senior Johnny Pace placed fifth among individuals with a time of 15:28. Centreville junior Brent Bailey finished 24th (16:21).
In the 6A girls' race, Westfield junior Sara Freix placed fifth with a time of 18:18. Centreville senior Jackie O'Shea finished 43rd (19:36).
Patriot sophomore Rachel McArthur won with a time of 17:43.
Oakton repeated as state champs with a score of 44, followed by Lake Braddock (58), Madison (83) and Patriot (96).