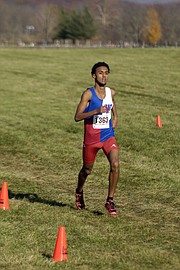 T.C. Williams senior Anteneh Girma got off to a strong start at the VHSL state meet and was out near the front of the pack one mile into the 6A boys' race.
While Girma ran with the title contenders Nov. 15, he simply couldn't maintain his pace.
Girma placed sixth at Great Meadow, finishing with a time of 15 minutes, 36 seconds. Girma's effort garnered all-state honors, but the Titan harrier later admitted his approach was flawed.
"It wasn't my strategy [to start fast], I just got a good start to put me in the front and I just stuck there," Girma wrote in an email. "I wasn't running smart because every distance runner knows you should be relaxing and conserving your energy so you don't die out like I did."
Lake Braddock senior Alex Corbett won the individual title with a time of 15:08. Fellow Bruin Kevin Monogue finished runner-up with a time of 15:19, followed by Cox's Jonathan Lomogda (15:21), Chantilly's Ryan McGorty (15:26) and Westfield's Johnny Pace (15:28).
"I can't be mad," Girma wrote, "because sixth place is better than seventh place."
Lake Braddock won the team title with a score of 41, followed by West Springfield (92), Chantilly (105), Oakton (124), Robinson (146), Cosby (177), Ocean Lakes (181), Washington-Lee (201), Forest Park (209), Stafford (230), Riverbend (237), and Cox (250).
Girma will compete in the Foot Locker South regional on Nov. 29 at McAlpine Park in Charlotte, N.C. to see if he can earn a spot at nationals. From there, it's on to track season and trying to decide which college to attend.
Girma finished fourth at the Conference 7 meet Oct. 30 at Burke Lake Park, and placed second at the 6A North region meet Nov. 5.