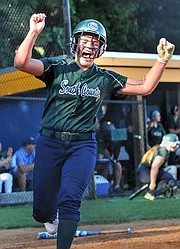 Jade Williams made an immediate impact with the South County softball program, earning first-team all-district honors as a freshman outfielder in 2013.
Last season, Williams moved to shortstop and came up clutch in the postseason, earning first-team all-region tournament honors as the Stallions captured the 6A North region title and eventually won the program's first state championship.
Now a junior, Williams committed in September to play softball at Kent State University, a member of the Mid-American Conference. Williams, who earned second-team all-conference honors as member of the South County field hockey team in the fall, recently participated in a Q&A via email with The Connection, sharing some insight about her Thanksgiving plans.
*Q: What are your plans for Thanksgiving?
Williams: My family and I are going to Chicago for a big wedding and a family reunion of sorts. I especially look forward to seeing my Grandpa and my cousins.
*Q: Do you or your family have any Thanksgiving traditions?
Williams: When we stay home, we do have traditions as far as the menu for Thanksgiving dinner and family activities like playing football or board games. Since we are traveling, we go with the traditions of my cousin. My uncle is hosting dinner and he is an amazing cook.
*Q: Does your family incorporate sports into Thanksgiving? If so, how?
Williams: My family is very sports oriented. We all either play sports or used to play, so watching games on TV is mandatory as is giving each other grief about our favorite teams. There are three NFL games on this Thanksgiving so that should keep everyone busy.
*Q: What is your favorite thing to eat on Thanksgiving?
Williams: Green bean casserole. Turkey. Mashed potatoes. Pie and ice cream. Guess I have more than one favorite.
*Q: You're committed to play softball at Kent State University. What made Kent State the right choice for you?
Williams: I have wanted to play college softball for as long as I can remember. The Kent State coach got interested in me at a tournament in Colorado. She personally came to watch me several times there and again in Georgia. She invited me to visit Kent State and I loved my time there. Kent has a veteran coaching staff and they play in a competitive DI conference (Mid-American Conference). The campus is beautiful and the academic support for athletes goes above and beyond. My future teammates helped seal the deal.
*Q: When did you commit?
Williams: I committed in early September of this year, right after summer ball ended and a month after I turned 16.
*Q: For what position did Kent State recruit you?
Williams: I was recruited as a shortstop and as a hitter. They also watched me play outfield and took a liking to my versatility.
*Q: The South County softball team won the state championship last year. What are your expectations for this spring?
Williams: As defending state champions, it is my hope that we play hard and leave everything we have on the field throughout the season. That's all you can ever ask for.
*Q: You also play field hockey for South County, and the team reached the region quarterfinals this year. What are your thoughts on how the season went?
Williams: First, I want to give a quick shout-out to my Kent State coaches for giving me the green light to play field hockey. Many college coaches prefer that athletes stick to their primary sport. Our field hockey season was fun, as always, and we put in a lot of hard work to compensate for the loss of six valuable seniors from the previous year. We wanted to play all the way to the championship, of course.
*Q: Who is your favorite music artist? Why?
Williams: My favorite country artists are Dierks Bentley and Chris Young because their music is fun and they are good people. I like many other artists and other kinds of music, too.
*Q: What is your favorite movie? Why?
Williams: The "Fast and Furious" series is my favorite, without a doubt. I love fast cars and action-packed movies. I take all six movies with me wherever I travel for softball.
*Q: What location is the farthest you have traveled from the Washington, D.C. area?
Williams: My parents are well-traveled and have taken my brothers and me to some great places. We've all been to Mexico together, which I loved! My personal favorite though, is the annual trek to Huntington Beach, Calif., where the national championship for Premier Girls Fastpitch softball is played every August. Qualifying for that tournament is our summer goal. My travel team, the Virginia Glory Gold, will work hard to be there again in 2015!
*Q: Who are your favorite pro sports teams?
Williams: The Washington Nationals and the Washington Capitals are my favorite local teams. I also like the Chicago Bears and the Chicago Bulls.
*Q: Who are your favorite athletes?
Williams: Derek Jeter, retired Yankee shortstop extraordinaire and Mike Trout of the Los Angeles Angels, current all-round amazing player. Since I will be spending my college time in Ohio, I will be close to two other favorites, LeBron James, who is back in Cleveland and Johnny Manziel, who was drafted last year to the Browns.