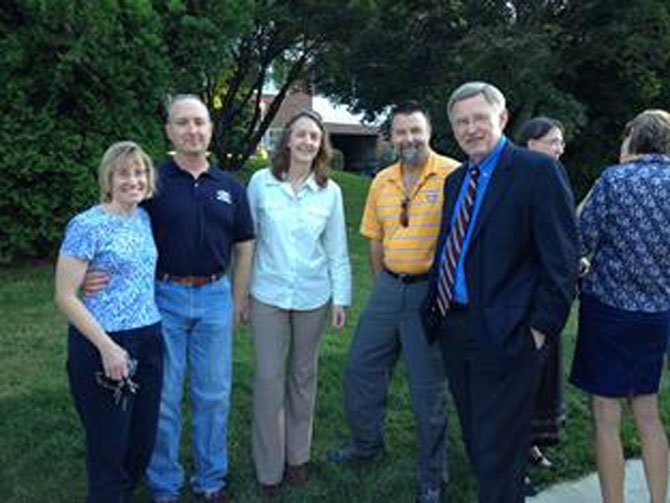 Dranesville Supervisor John Foust, neighborhood residents, and staff from Fairfax County Departments of Transportation and Capital Facilities met on Dead Run Drive in McLean on Sept. 16 to celebrate the recent completion of a long-awaited pedestrian walkway. The new sidewalk runs along Dead Run Drive, between its eastern Carper Street intersection and Congress lane. Dead Run Drive is a popular walking route for students walking to and from Churchill Elementary School, Cooper Middle School and Langley High School. It is also used by walkers to Dead Run Stream Valley Park, McLean Community Center, Dolley Madison Library, McLean Central Park and the McLean central business district.
Up until last month, there was a missing stretch of sidewalk fronting eleven properties on the west side of Dead Run Drive. In 2010, through the County's Residential Traffic Administration Program, the community worked with Supervisor Foust to slow down traffic on Dead Run Drive with the installation of stop signs at two intersections and a speed hump. Dead Run Drive had become an increasingly popular short-cut for Maryland commuters and, with no stops or speed humps, a tempting route for speeding. Still, even with the traffic calming features installed, the hilly terrain and on-road parking at this location made the lack of continuous sidewalk particularly dangerous to those who were required to walk along the street, especially elementary school students walking to and from school.
In April 2011, Supervisor Foust obtained funding for the sidewalk project through Commercial and Industrial Tax revenues. Acquiring property rights for the project took longer than expected. However, once necessary easements were obtained, the project moved quickly and construction was completed over the summer.
"I want to thank the neighbors in the area of Dead Run, in particular, Angela and Paul Keiser, Barb and Eric Malés and Julie and Joe Smith – for continuing to advocate for this important project," said Supervisor Foust. "I also want to recognize Demond Frazier, design project manager; Scott Bishop, construction manager; and Stephen Bailey, land acquisition agent, who were key to making the project happen. I am grateful for their efforts and perseverance in seeing this project through to completion."