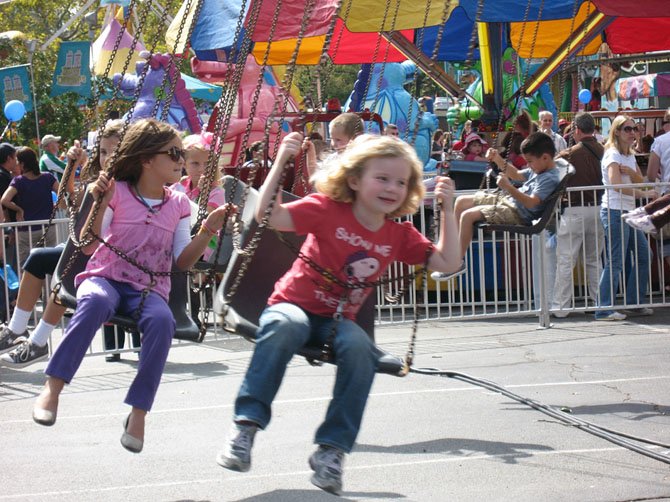 Entertainment Stages
The Main Stage and craft-beer garden will present bands from 11 a.m.-5 p.m.
The Main Stage, University Drive and South Street, will showcase:
11 a.m.-1:30 p.m. – Almost Journey/2U (a Journey and U2 tribute band)
2:30-5 p.m. – Bruce in the USA (a Bruce Springsteen tribute band)
The Country Stage and domestic-beer garden, at University Drive and Armstrong Street, presents:
11 a.m.-noon – The Kevin MaC Band
1:30-3:30 p.m. – Southpaw
The Festival Stage, at the Old Town Hall, 3999 University Drive, will feature:
Noon – Main Street Community Band
1:15 p.m. – Woodson High Drama
2:15 p.m. – Fairfax Choral Society
3:15 p.m. – Shepard's Pie
The Children's Stage, in the parking lot next to the Old Fire station No. 3 Restaurant, at 3988 University Drive, will offer:
10 a.m. – School of Rock
11:45 a.m. – Turley the Magician
12:30 p.m. – Chuck F (a juggler)
1 p.m. – Rocknoceros (singers and musicians)
2 p.m. – Chuck F (a juggler)
2:30 p.m. – Blue Sky Puppets "Jester's Box"
3 p.m. – Tiger Eyes Tae Kwon Do
3:20 p.m. – Reptiles Alive!
4 p.m. – Sophia Music Studio
When it comes to family fun, it's hard to beat the Fairfax Fall Festival. It's set for Saturday, Oct. 11 (rain date, Oct. 12), from 10 a.m. to 5 p.m., and features a cornucopia of entertainment, including Journey and Bruce Springsteen tribute bands, a lumberjack competition, food, crafts and carnival rides.
"The Fall Festival is a Fairfax original and attracts thousands to our historic downtown," said City of Fairfax Mayor Scott Silverthorne. "There's something for everyone, including the best vendors, food and entertainment from around the region. This year, we're planning even more live music, rides and children's activities. And for history lovers, the public can view George Washington's will at the Historic Fairfax County Courthouse."
More than 400 vendors will line both sides of Main Street, University Drive and Sager Avenue. Each year, the festival draws people from throughout Northern Virginia, so the downtown City of Fairfax streets will be closed to traffic during the event.
The Fairfax Volunteer Fire Department at Fire Station 3 at 4081 University Drive will welcome the public to its open house that day as part of national Fire Prevention Week. Children may meet their local firefighters and EMTs and even climb up inside a fire engine.
In addition, the City of Fairfax Public Works and Parks and Recreation departments will present Touch-a-Truck along University Drive near Armstrong Street. Always a big hit with children, it enables them to see and explore close-up several different types of City work vehicles and equipment.
Festival sponsors include Fair City Mall, radio station 97.1 and WASH FM. For more information, call 703-385-7858 or go to www.FairfaxFallFestival.com.
Crafts and Lumberjacks
A wide array of juried, handmade items will be available for purchase. They'll range from children's clothing and hair bows to quilts, woodcrafts, jewelry, toys and dolls, photography, furniture, vases, pottery, needlework, wind chimes and baskets.
New this year is the All American Lumberjack Show and Interactive Lumberjack Camp. Sponsored by JL Tree Service, professional lumberjacks will compete in 11 different events throughout the day while festival-goers cheer them on.
Attendees will be able to see the lumberjacks' skills wielding everything from axes to modified racing chainsaws to cross-cut saws. There'll even be water events and audience participation. Show times are 10:30 a.m., noon and 4:30 p.m., and the lumberjack camp is set for 3:30 p.m.
Food, Business Expo, Rides
And when festival-goers get hungry, they'll find lots of offerings from which to choose. Besides the traditional food vendors selling everything from hot dogs and hamburgers to chicken, ice cream and funnel cakes, a contingent of specialty food trucks will also be on hand.
The event also includes a business expo so residents may see the many goods and services available to them locally. There's no entrance cost to attend the Fall Festival, but there'll be fees for certain rides and children's activities.
The amusement rides will run until 8 p.m. in the SunTrust Bank parking lot. And additional children's activities will be held in the parking lot next to the Old Fire Station No. 3 restaurant at 3988 University Drive.
History
For history buffs, the Friends of the Historic Fairfax Courthouse will offer a special, free event from 10 a.m.-3 p.m. at 4000 Chain Bridge Road. Visitors may view together, for the first time in 60 years, George and Martha Washington's wills, plus other Virginia historical documents.
Mayor Silverthorne will emcee a special program there from 1-3 p.m. Speaking will be Fairfax County Board of Supervisors Chairman Sharon Bulova, Circuit Court Chief Judge Dennis Smith, Sen. Chap Petersen (D-34th), City of Fairfax Revenue Commissioner Page Johnson and Clerk of the Circuit Court John Frey.
Also open for tours that day will be the City of Fairfax Museum and Visitors Center, 10209 Main St., from 9-5 p.m., and the Ratcliffe-Allison House, 10386 Main St., from 10 a.m.-4 p.m.
Parking
To reach the festival, people may park at Fairfax High and GMU and take shuttle buses, from 9:30 a.m.-5:30 p.m., to and from the event.
Handicapped parking will be at the parking lots at City Hall, Main and East streets, as well as at 4041 University Drive.