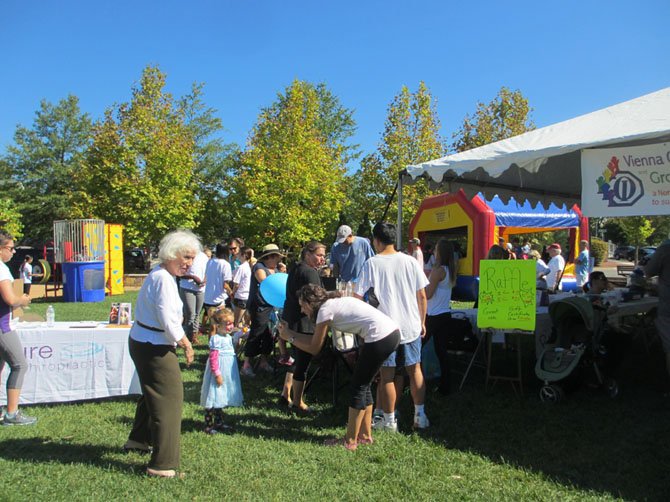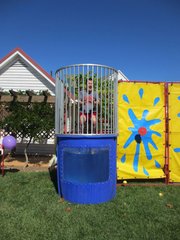 The Vienna Town Green rung out with joyful sounds, from children's laughter to live pop music, on Saturday, Sept. 27, as the Optimists of Greater Vienna hosted its 9th Annual Family Fun Day and Fun Walk for "Growing Hope."
Every year, the Optimist Club of Greater Vienna sponsors the four-hour event to raise funds for the Optimists' childhood cancer campaign, supporting Growing Hope's local efforts to provide resources to children with cancer and their families.

"No one should go through an experience like this without the support of the community, friends and family," said Optimist, Pat Hackerson, whose Weichert Realty colleague lost a daughter. "We recognize the need for a cure for cancer, especially for the children. This [financial support] is for the babies, and babies are our future. And most of us have children and we can relate."
Hackerson's office has contributed more than $4,500 to the Optimists' childhood cancer campaign over the past nine years.
Family-fun activities included a fun run, bounce-house, dunk tank, local artists, face-painting, live music, refreshments, raffle drawings, and a live auction. Vienna resident Mark Keam, representing the 35th District in the Virginia House of Delegates, volunteers 30 minutes in the dunk-tank each year, and ball-throwers did a pretty good job of dunking Keam on Saturday.
Donaldson's Run performed a selection of classic rock, songs like "Son of a Preacher Man" and "Heat Wave." It was enough to draw bikers and walkers from the W & OD trail and families walking down Church Street.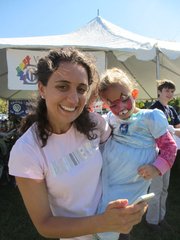 The McKinley family was one such family walking by. They heard the music and dropped in for the bouncehouse and face-painting. "This is a great event," said Biljana McKinley. "It made me happy to live in Vienna."
Local businesses donated food, raffle and auction prizes to the Optimists. Amphora, Foster's Grille Vienna, Giant Food, Costco, Manhattan Bagel, Dunkin Donuts, Walgreen's and Starbuck's provided free refreshments. Again this year, neither Donaldson's Run nor Angela McCall of Paint Me a Party took a fee for their services.
Donations and raised funds stay in the community. Seventy-five percent of the Family Fun Day's proceeds go directly to Growing Hope. The remaining 25 percent is donated to the childhood cancer research program at Johns Hopkins University & Medical Center.
For more information on the Optimist Club of Greater Vienna or Growing Hope, visit www.optimistclubofgreatervienna.org/childcc2014.