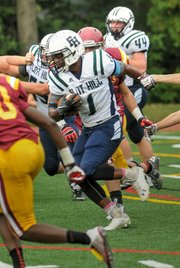 The Flint Hill football team dropped to 1-4 with a 24-21 loss to Bishop Ireton on Oct. 3, but it wasn't for a lack of effort from running back Cameron Vaughn.
The senior carried 25 times for 208 yards and two touchdowns against the Cardinals, and caught one pass for five yards.
Vaughn's 24-yard touchdown run gave the Huskies a 7-3 lead with 11:47 remaining in the second quarter. After Bishop Ireton regained the lead, Vaughn broke loose for an 82-yard touchdown run, giving Flint Hill a 14-10 advantage.
Vaughn was the lead of a Husky offense that totaled 359 yards, including 283 on the ground.
Flint Hill has dropped four straight after winning its season opener against Paul VI. The Huskies will host St. James at 3 p.m. on Saturday, Oct. 11.