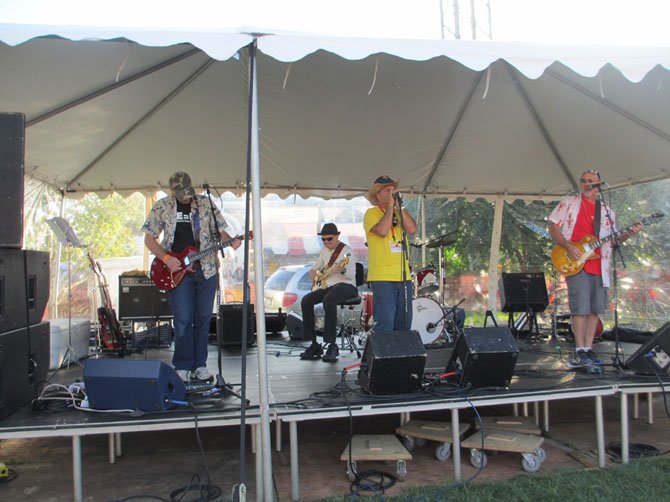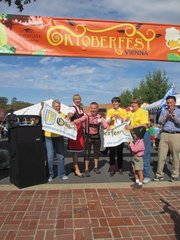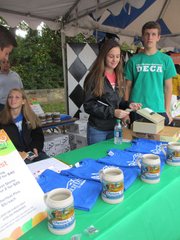 A chilling wind late in the day scattered many of the fairgoers at Vienna's 7th Annual Oktoberfest on Saturday. But throughout most of the sunny day, thousands of local families stopped by the Oktoberfest grounds along historic Church Street, listening to live music, eating bratwurst and drinking beer in the beer garden, browsing among the tented booths along the route, and engaging in kids' activities.
Burgermeister Greg Bernhard opened the celebration at 11 a.m., pledging to protect the festival. Bernhard was accompanied by the burgermeister assistant, Friderike "Ike" Butler — now of Vienna — who translated the welcome of "friendship and hospitality," or, as Butler summed it up, "gemütlickeit."
For the second consecutive year, the Vienna Business Association (VBA) partnered with the Town of Vienna to produce a community festival that is family-friendly and fun for children of every young to not-so-young ages. Even the entertainment was diverse.
The main stage featured a rocking "School of Rock" band performing contemporary sounds, the oompah-sounds of Sexton's German Band and the blues-y rock of Fat Chance to close out the festival.
Over on the Town Green, which hosted the children's stage and free activities for children, Rocknoceros opened the entertainment at 11 a.m. Performances, from dance to martial arts, continued on the Town Green throughout the day.
There were quite a few dirndls and lederhosen visible, too. Some of the wearers came from Germany, others had been stationed there. Maplewood Grill, Bazin's and Whole Foods offered brats, sides and hot soft pretzels, and Pure Pasty sold a wurst pasty.
The Vienna Business Association sold hundreds of commemorative beer mugs and the few remaining will be sold at Vienna shops.
Local elected officials, from the Vienna Town Council to Del. Mark Keam, State Senator Chap Petersen and U.S. Congressman Gerry Connolly, greeted residents and took part in the event.
Proceeds from Oktoberfest benefit Vienna's First Night celebration, an alcohol-free alternative to traditional New Year's Eve celebrations. The family-friendly Church Street New Year's Eve event is free. Entertainment and venues are supported by local businesses.
— Donna Manz