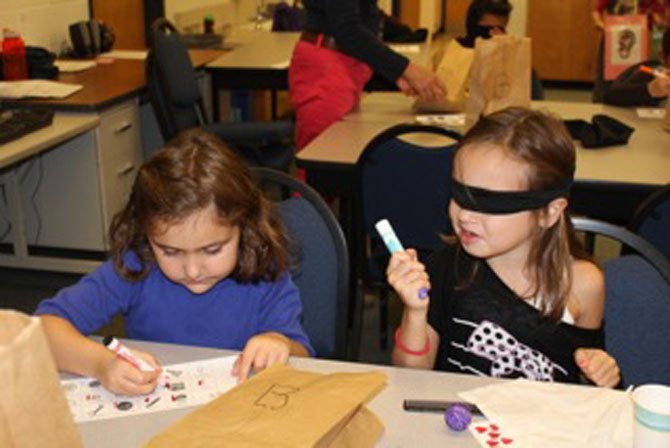 A classmate led Sophia Collins across the gym floor during a physical education class at Wayside Elementary School in Potomac last week. Sophia tried to pick up a golf ball and put it in a cup. This may sound like an overly simple task for a first grade student, but Sophia needed help because she couldn't see. During the exercise, she got assistance as she completed a variety of everyday tasks.
"It is scary going down the stairs if you're blind," she said.
However, Sophia isn't blind; she was wearing a blindfold and taking part in Wayside's fourth annual Special Needs Awareness Program (SNAP) Week. SNAP is a week-long disability awareness program made up of lessons and experiences designed to help students not only better understand the challenges people with a disability may face, but promote acceptance of their peers with special needs.
In addition to reading and watching documentaries about those with special needs, students engaged simulation activities that allowed them to experience firsthand what it can be like to have a disability.
"SNAP is important in the community to build awareness around the topics of tolerance and respect for others who are different from us," said Nancy Averill, a guidance counselor at Wayside. "The hope is that families are talking about the lessons and activities and are sharing their own values and expectations for their children."
The week also included an evening performance by the band Rock-Able, led by Jesse Magee, who is legally blind and has cerebral palsy. He and his band play original music, and his life story helps many people gain more understanding of those who have special needs.
In addition, Wayside's faculty and staff took part in a battle of the bands as part of the musical event.
"Our students learn lessons not only about the learning needs of others, but the need to be self-reflective about their own challenges and how they relate to the challenges of others," said Donna Michela, Wayside's principal. "They learn that they can and need to be not only advocates for themselves, but for others as well."
During the interactive simulation activities, students rotated through gross motor, fine motor, vision and audiology simulation activities. In addition to performing everyday tasks while blindfolded, students learned to communicate with each other using only assistive technology devices and attempted fine motor tasks with socks or gloves on their hands.
Third grader Justin Saenz said he learned, "How hard it is," to communicate with others without being able to speak.