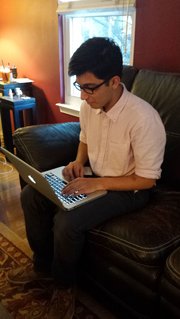 While many have been seeking ways to save on home electric bills, one local high school student has been working on a solution.
Seventeen-year-old Ameer Sami, a senior at Oakton High School, is working toward patenting "Ottomate," a learning technology he designed to make energy-saving through home automation, easier.
And with the expanding use of tablets and smartphones, the use of home automation is becoming easier and more affordable, which is good news considering that it could also save energy.
Sami's invention fits into the web of home automation because "Ottomate is an affordable home automation system that did not exist, previously, on the market," said Sami.
Ottomate, a cloud-based home automation system, allows users to control their devices from anywhere around the world. The system is able to actually learn a user's habits when it comes to how an individual uses electrical appliances. And no programming is required from the user. "It takes about two weeks for the system to learn your habits," said Sami.
Sami, who was 16 when he created the Ottomate system, sought a solution to always forgetting to turn off the lights in his room. "My mom would always yell at me," he laughed.
"So I did some research on things that could control lights." In his research Sami found devices that turn off lights at sunrise and sunset, but as a student whose hours of activity were not confined to using things like lights only at sunrise and sunset, he was in search of more sophisticated system. "I simply could not find a device that knows your habits," said Sami. So he looked at creating one.
A LONGTIME ENTHUSIAST of inventing, Ameer honed many of his skills in school. "I took an engineering class at Oakton and applied the skills I learned," said Sami. "This year I am taking a research and development class where the teacher is more hands-off."
According to Sami, the Ottomate system comprises three devices: the Ottobox, the Ottonovo and the Ottoplate. All of which feature Bluetooth and Wi-fi modules to allow users to control the devices.
The Ottobox is like an adapter. It is plugged directly into wall sockets, and users can then plug their devices into the Ottobox to allow lights, toasters or coffee makers to be automated and controlled from anywhere around the world. In other words, if you plug your coffee maker into the Ottobox and every Monday, Wednesday and Friday set your coffee maker to brew a cup at 8 a.m., after two weeks, the Ottobox will tell the coffee maker to do this for you. The outlet on the face of the box contains a ring of lights that indicates when an action is about to be performed. It also contains two USB ports.
"Technology and home automation are accelerating at a rapid rate," said James Arcilesi, vice president of sales at Ottomate. According to a 2013 report released by the Center for Data Innovation in Washington, D.C., "global energy consumption will rise by over 50 percent over the next 30 years." The report goes on to say that one way to improving home energy use is to "automate and encourage energy-efficient practices such as running appliances at off-peak times."
The product has already been shown to significantly reduce the cost of electricity. "Right now the product is in beta-testing mode," said Sami. "And in one of the beta-testers the electric bill decreased by of 50 percent." According to Arcilesi, In other words, in just two billing cycles, the product pays for itself.
In addition to the Ottobox, other devices making up the Ottomate system are the Ottonovo and the Ottoplate.
Sami plans to launch the Ottonovo in January of 2015. This device replaces the standard home wall socket to automate any device that is plugged into it. The Ottonovo contains two USB ports and will also feature a ring of light that changes color when the device is about to perform a function as well. The Ottoplate replaces the standard home wall switch. Featuring a button, rather than a switch, the Ottoplate allows users to control fans and electrical sockets in any room. The button keeps the device from being in a static "on" or "off" state, which can save energy.
However, in a house where more than one person is using an electrical appliance, the Ottomate system is able to distinguish one user from the next by assigning an ID to each user's mobile device. The system's tracking option can then locate a user in the household by tracking the distance between a user's mobile device, and the Ottomate device.
"I'm really excited," said Sami. Right now he is communicating with manufacturers in California, Mexico and China to build the product. In January of 2015 he plans to attend the Consumer Electronics Show in Las Vegas, where he will have the chance to show off his product at an international trade show that attracts industry professionals worldwide.
"We're reaching out to bigger investors, but other people are reaching out to us as well," said CFO Kawtar Sibera. Sami is marketing the product toward millennials, but also to older people who may not be able to get around easily and might forget to turn off their appliances.
According to the U.S. Information and Energy Administration (EIA), in 2013 the average electricity consumption for households in Virginia was higher than the national average. The product's main feature is its ability to reduce electricity spending.
SAMI IS CONTINUING to work toward patenting the Ottomate technology, an effort that began in the summer of 2013. "I'm still waiting for the patent to go through on the learning technology," said Sami. "But by the second week of October is when we hope to have things launched," he laughed.
Outside of inventing, Sami has held roles in his school's film club and debate team, where he is currently captain. He is thinking about the future and continuing with Ottomate. He plans to double major in computer science and electrical engineering.
For more information about Ottomate, visit www.ottomate.co.