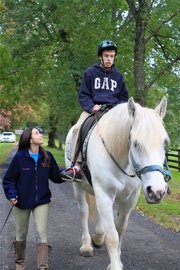 Richard Tucker gripped the reins of a prince-worthy white horse, steering it through a trail during a lesson at Lift Me Up! therapeutic horseback riding program.
Sitting tall on his horse, he can be just like anyone his age.
"Unlike going to a therapist where they know it's therapy, they come here and they don't fight it," said Program Director Georgia Bay. "They're with an animal that doesn't judge them."
The six-acre lot that Lift Me Up! sits on is getting a makeover thanks to four donors. Three fields are getting new fencing — a project that can cost up to $10,000 a pop.
Thanks to sponsorships from the Claude Moore Foundation, The Old Brogue, Celebrate Great Falls and an anonymous donor, Lift Me Up! can use their profits to add onto its therapy programs.
"A big part of what makes Great Falls special is our old-fashioned 'neighborliness' — the benefits of living in a small town where people get to know one another and try to help out when needed," said Celebrate Great Falls director Erin Lobato in an email. "I am so proud that Lift Me Up is able to do what they do right here in Great Falls to help children and adults with disabilities experience the magic of horseback riding while gaining strength, confidence and many other skills. Great Falls is indeed a special place to live and Celebrate Great Falls Foundation is proud to be a small part of it."
Both the Old Brogue and Celebrate Great Falls! donated $5,000 for a field and Claude Moore Foundation donated $5,000 earlier this year and an additional $10,000 recently to match the community's support.
According to Director of Development Laura Smith, the current fence posts have been weakened by years of the soil freezing and thawing.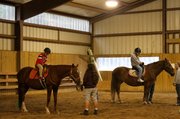 "The fencing is essential to keeping the horses where they need to be — safe," she said. "It's just something that's critical. We are a charity that's trying to get by."
Bay said the program will be 40 years old next year and works hard to make sure the 107 riders with special needs can afford to benefit from riding horses.
"We do charge something for lessons, but it's not even close to what a lesson should cost," said Bay.
The program saves money by having nearly 200 volunteers help run the lessons and care for the horses. Another 200 volunteers join throughout the year for special projects.
She wants Lift Me Up! to eventually become an industry leader, training instructors from all over the country and offering more workshops and camp programs.
"We talked about possibly bringing back vaulting and looking to expand other rider programs like a drill team," Bay said.
For more information about Lift Me Up!, visit http://www.liftmeup.org/lmu.cfm.