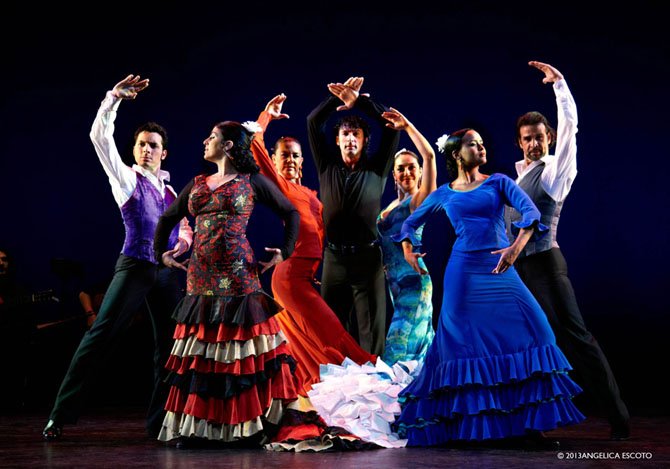 One of the nation's premier flamenco and Spanish dance companies, New York's Flamenco Vivo Carlota Santana, will perform "The Soul of Flamenco" for a single night at The Alden in McLean. The show will be presented at 8 p.m. on Saturday, Nov. 1. Tickets are $30, $20 for McLean tax district residents. The Alden is housed in the McLean Community Center, which is located at 1234 Ingleside Avenue.
Based in New York City, Flamenco Vivo Carlota Santana is one of the nation's premier flamenco and Spanish dance companies. It was founded 30 years ago on the premise that flamenco, a multicultural art form, has the power to build bridges between cultures and inspire audiences from diverse backgrounds. Artistic Director Carlota Santana leads this company of energetic dancers and musicians in powerful performances, extensive community outreach and innovative arts education programs.
The group's performances uphold the purity and traditions of flamenco and classical Spanish dance while pushing the boundaries of the art form in new directions. The company commissions dramatic works with original choreography and live music and performs cutting edge dance. In "Soul of Flamenco," Vivo brings an exciting evening of flamenco dance to the stage featuring accomplished artists from the U.S. and Spain. The performance will include celebrated repertoire as well as the new work "A Solas" by Ángel Muñoz, which The New York Times deemed "…impressive for its compositional finesse." The Philadelphia Inquirer said, "This was a show of graceful, sensuous dance, expressing a host of raw human emotions—evocative of loneliness, pride, passion and joy."
Tickets are on sale now. For more information or to purchase tickets online, visit: www.aldentheatre.org or call 703-790-0123, TTY: 711.