In her effort to break the cycle of poverty for the working poor in the Washington D.C. region, Rosemary Tran Lauer founded the Devotion for Children nonprofit. The organization helps to prevent others from facing the extreme desperation that she once did as a Vietnamese immigrant. Her life story and work is inspirational, and will be lauded by the National Association of Realtors as part of the Realtor Magazine 2014 Good Neighbor Awards program. She is a Realtor with Long & Foster Real Estate in Vienna.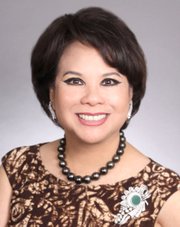 Clutching her 3-year-old son and 6-month-old daughter, in April 1975, Tran Lauer went to the bustling docks of Saigon with the expectation of locating her husband there. She never found him.
While at the waterfront, a sailor scooped Tran Lauer's son onto a ship, expecting that they wanted to flee. As she went to retrieve him, the family was overtaken by a throng of refugees escaping the chaos that erupted on the deck. In haste, the vessel pulled away, starting a 10-day voyage for the South Vietnamese refugees on board, safely landing in Guam.
Alone and destitute, the single mother of two young children was sponsored by the International Rescue Committee to live in Washington, D.C. at the time that the Fall of Saigon ended the Vietnam War. She climbed her way out of poverty, which spawned her commitment to help other families avoid such circumstances. Devotion to Children, formed in 1994, works to provide affordable, quality childcare to children under age 6.
Committed to early childhood nurturing and education, Tran Lauer was determined to make a difference to others. "Devotion to Children has helped over 3,000 children through various forms of services," Tran Lauer said. "We offer computer labs, children's libraries, child care scholarships, emergency child care funding and preschool testing."
Along with the staff of her nonprofit, she has touched the lives of under-served families who are committed to their children but have been struggling. "I am grateful to be able to pay it forward," she said. "From my humble beginnings, I understand the challenges. Each day I get up and feel thankful; I don't take anything for granted."
Her own turbulent journey as an immigrant has provided her with insight and perceptiveness, she explained. As a Realtor, "I don't sell, I serve the best interest of my clients; that is what I do," she said.
Tran Lauer, a Long & Foster Real Estate Realtor in Vienna, will be honored by the NAR REALTOR magazine Good Neighbor Awards program at the NAR General Assembly in New Orleans, La., on Nov. 8. Her charity will be awarded $10,000 and a crystal trophy from NAR.