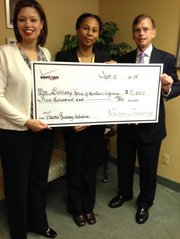 Domestic violence shelters and awareness organizations are hoping to build on the response they've seen since the Ray Rice abuse case escalated in a very public way.
"Calls increased to national hotlines roughly 80 percent after the video surfaced," said Braddock supervisor John Cook. "A lot of people think this is something you shouldn't talk about, that it's meant to stay private, in our home. We need to get the word out this is a bad thing, that we should talk about it and make it clear it's not acceptable."
At a Fairfax County Board of Supervisors meeting several weeks ago, Cook proposed a resolution to designate October "Domestic Violence Awareness Month." He's following up that action with an awareness event planned for Oct. 22 at the Coyote Grille in Fairfax.
Proceeds from the event will benefit the Shelter House, 24-hour domestic violence shelter Artemis House, as well as Fairfax County Court Appointed Special Advocates, a directional tool for the children victims of domestic violence.
The next day, a few miles southwest of Coyote Grille, Alexandria-based Bethany House is holding an event of its own at Malek's Pizza Palace in Springfield. Bethany House offers temporary housing and support to female domestic violence victims and their children.
The Bethany House event takes place Oct. 23 from 4-9 p.m., while Cook's event was set to last from 4:30-6:30 p.m. on Oct. 22.
More like this story