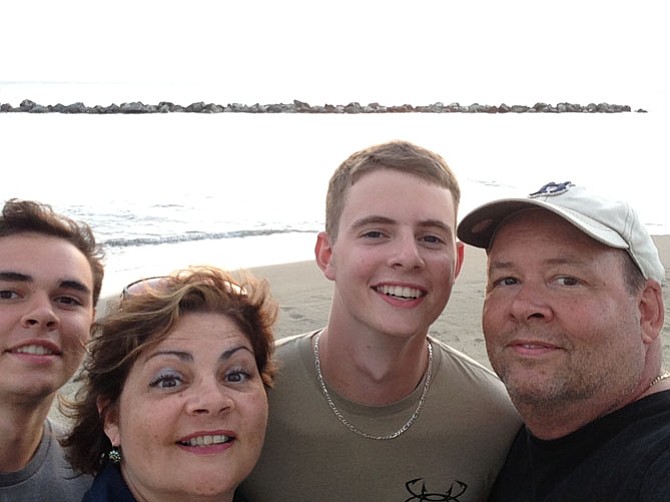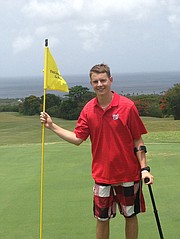 Nick Balenger's promising athletic career all but disappeared in an instant. In 2012, the former Lake Braddock pitcher suffered a spinal cord injury while swimming in Hawaii.
It was an incomplete spinal cord lesion at the fourth and fifth cervical vertebrae. In other words, part of his spinal cord was damaged. He was paralyzed from the chest down.
But when he approaches the podium to address an expected crowd of 600 at the Medstar NRH Gala Victory Awards on Oct. 30 at the Marriott Marquis in Washington, D.C., Balenger will be on forearm crutches.
Now, over two years since his injury, the 19-year-old freshman at George Mason University is one of three honorees being recognized for displaying strength and courage in recovering from traumatic injuries, as well as being role models for people with disabilities.
"I have to pinch myself," said Balenger's mother Sylvie. "You look at how far he's come. Very few people have that opportunity to improve as much as he has."
Balenger went from inpatient to outpatient physical therapy and made considerable progress working with the National Rehabilitation Hospital (NRH) in Washington, D.C. He's gone from a wheelchair to a walker to crutches.
Balenger has benefited from an organized outpouring of support called Nick Nation, a group of friends, family, coaches and parents that banded together to raise money to help the Balengers offset the costs associated with his injury and recovery.
He's also received significant tuition help from Swim With Mike, a physically challenged athletes scholarship fund.
"I've been given the opportunity that not many people with my injury have," said Nick. "I don't want to let it go to waste."
LAST YEAR, he lived at home in Burke and attended classes part time at George Mason University. This year, he's taking classes full time and made that all-important leap: He's living in campus.
"That was a big threshold for him," said Sylvie. "To live away from home and feel strong enough to do that."
Nick shares a suite with a roommate and two other students. "It's a pretty big leap," he said, "but it's definitely worth it."
His injury recovery hasn't stopped progressing either. When GMU launched an exercise-based research pilot project in Spring 2014, Balenger's NRH physician Dr. Suzanne Groah recommended him to the team's leader, Dr. Andrew A. Guccione, professor and chair of the Department of Rehabilitation Science.
Balenger became the project's first test subject. He's now in his second 15-week session with the research team. Twice a week, he's put through a battery of body weight-based (no machines involved) exercises designed to redevelop the groups of muscles he needs to perform various tasks.
"We'll warm up, then work on a specific type of movement, a focus that day," said Nick. "I give them feedback, we can do this thing, work on that. It's tailored toward whatever I feel I need help with."
The program is less about how many times can he lift a weight, but breaking down the motions associated with a task, like walking, bending and reaching.
And though the exercises are low-tech, the analysis is anything but. The researchers usually have Balenger's body covered in markers that create a stick-figure diagram monitoring his movements. And they track how efficiently his body uses oxygen with an imaging system called near-infrared spectroscopy (NIRS).
"We notice in Nick a major change there," said Guccione. "Though working with Nick is a bit of a biased sample. He was an extraordinary athlete with a great deal of motor ability before his injury."
GUCCIONE BELIEVES the combination of Nick's baseball history, natural body awareness and extensive rehabilitation with NRH are all helping take him to the next level of recovery.
In addition to his natural gifts, Nick's mental maturation has played a major role.
"It's still a struggle for him, being a baseball player and not having that anymore," said Sylvie. "He has to rethink his future."
Guccione said athletes are sometimes more vulnerable to mental blockages to recovery for just that reason. But, he said, "Where other people might feel like their previous identity has been crushed, I think he's capitalizing on his previous accomplishment and using that as a springboard to the next level."
With the way Balenger is progressing, Guccione's goal is for him to be down to a single crutch by the end of the academic year.
"I have a lot of support from my family and friends," said Nick. "That really makes me want to keep doing it and working hard, just to get that ultimate goal: down to nothing."
Balenger plans to enter the State Department's multi-year Pathways internship and pursue work in intelligence analysis.