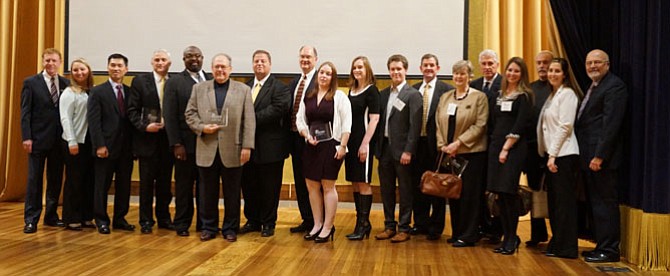 The Alexandria Chamber of Commerce held its annual Business of the Year Awards Oct. 22, honoring businesses throughout the community and Lonnie C. Rich as the 2014 Business Leader of the Year.
"To paraphrase one of my favorite Yankees, Lou Gehrig, receiving this award tonight reminds me that I am one of the luckiest guys in the world," said Rich, a partner at Rich Rosenthal Brincefield Manitta Dzubin & Kroeger, as he accepted his award.
The event, sponsored by Eagle Bank, was held at the George Washington Masonic Memorial and honored businesses selected as Best in Business in their nominated categories.
The 2014 honorees were: Association/Nonprofit Business of the Year – Senior Services of Alexandria; Small Business of the Year – Rooftop Chimney Sweeps LLC; Medium Business of the Year – Fluet Huber + Hoang PLLC; Large Business of the Year – Burke & Herbert Bank; Rising Star Business of the Year – Minuteman Press of Alexandria; and Overall Business of the Year - The Hoffman Company.
"The Chamber's Business Awards is the flagship awards program in the community that recognizes excellence in business," said Chamber of Commerce president and CEO John Long. "Presented annually, this event is the life-blood for businesses that set the standard, innovate and excel in our region."
Following the awards presentation, more than 200 guests sampled tastings from Chef Cathal Armstrong's Alexandria restaurants, including Restaurant Eve, The Majestic, Society Fair, Eamonn's A Dublin Chipper and Club PX Lounge. Armstrong was honored in 2012 as the Chamber's Business Leader of the Year.
A former member of City Council, Rich praised the Alexandria community and the efforts of other business leaders.
"When Joan Renner was chair of the chamber 10 years ago, she would regularly point out that we are a chamber of small businesses," Rich said. "Most of our members are not just business people, but we live as well as work in Alexandria, our kids go to school in the city, we are active in the faith community, we support local charities and we work hard and try to provide good products and services to our clients. I love it that all parts of my life feel fully integrated into one grand whole."
Rich thanked his wife, Marcia Call, and daughter Mattie, who were in the audience, then went on to recognize the work of his fellow chamber members.
"I love this Chamber of Commerce," Rich said. "I am very grateful for the recognition tonight, but truly feel that for the most part I am like every other chamber member that Joan Renner talked about 10 years ago – I am just a part of and involved in my community."
Rich ended his remarks with a quote from one of his favorite poets.
"The woods are lovely, dark and deep, but I have promises to keep and miles to go before I sleep, and miles to go before I sleep," Rich said as he quoted Robert Frost. "We all have our promises and miles to go in continuing to make Alexandria a great community."