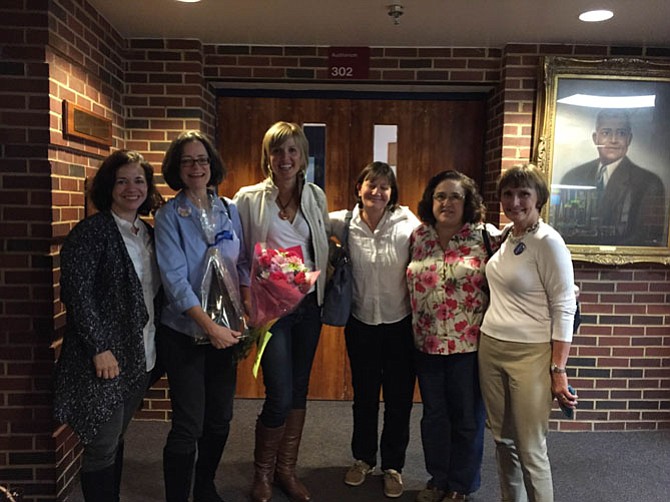 Phyllis Payne has been fighting for more sleep for a decade. On Oct. 23, it all paid off.
The co-founder of Start Later for Excellence in Education Proposal - or SLEEP - saw the Fairfax County Public School Board approve to move high school start times ahead by 30 minutes, 11-1.
"This means the school system is getting a policy on what is best for the kids," she said after the vote. "It's been a labor of love."
She said she was proud of Superintendent Karen Garza and the board members for approving the motion. The change means that high school start times will be between 8 and 8:10 a.m. next school year, about a 30 minute push forward. Middle School start times will be 7:30 and elementary start times will remain unchanged.
The only board member to not vote yes on the proposal was Sully District board member Kathy Smith.
"I was really hoping when this process started that I could be in a place where I could vote yes," Smith said.
She said many of her constituents did not want school start times to change, and she wanted to be the one voice for them.
"I have once been a lone no vote on the board, and it's not easy," said Hunter Mill District board member Pat Hynes. "I want to mention it, because we are models for our students always."
SEVERAL BOARD MEMBERS became emotional as they talked about the reasons they supported it - whether they supported it along with Payne for the past decade or decided more recently to approve the proposal.
Mason District board member Sandra Evans, who is also a co-founder of SLEEP and made the motion for the proposal, said some students are picked up as early as 5:45 a.m.
"Sleep deprivation is a public health crisis," she said.
With more sleep, she said, students would be at less of a risk for depression, attendance loss, low test score and car accidents.
During the public comment period, mother of three Karen Keys-Gamarra spoke about pulling her three boys out of bed to wake them up every day of their school years.
"As I jostled my sons repeatedly during those predawn hours, pulling off their covers while rushing to prepare breakfast, I instinctively knew something was wrong," she said. "I knew that these brutally early start times could not be healthy."
Two of her sons have already graduated, but the third one is a sophomore at Madison High School and will benefit from the later start times next year.
"It's not about taking away teens' electronics, forbidding caffeinated drinks or forcing them to go to bed early," she said. "It's about hormones, body clocks and circadian rhythms. Trust me, my husband and I could and would make our boys go to bed early. But we could not make them sleep."

The impact will be even bigger for disadvantaged and students with disabilities, according to Sheree Brown Kaplan with Fairfax Alliance for Appropriate School Education.
"This has been a long time coming," she said after the motion was approved. "This isn't about saving money. It's about the kids."
During her speech in the public comment portion of the meeting, she said disadvantaged students feel the effects of sleep deprivation more than other students do.
"An insufficient sleep can exacerbate certain mental illnesses like bipolar disorders and anxiety disorders, leading to higher rates of problem behavior in school, loss in structural time and academic failure," she said.
Although the cost for the first year was originally projected at $30 million, board members credited Assistant Superintendent of Facilities and Transportation Jeffrey Platenberg for helping reduce the cost to $4.9 million.
Springfield District board member Elizabeth Schultz said the cost per student per day is 15 cents.
"If we can't invest 15 cents per student per day in just one year, and that's not the advertised cost, to improving the social, emotional, health, physical academic, athletic and extracurricular activities, nevermind the sacrosanct time that children need to spend with their family, then we do not have our priorities straight," she said.
Schultz also thanked who she called the naysayers - the people who came before the board disapproving of the measure. Because of those who questioned each step along the way, she said, a proposal that met many of those concerns could be formed. While she said this is not a perfect solution, it is the best solution for now.
"This is just a starting point," she said.
DR. GARZA noted that there are some things to work on to make later start times run smoothly next year, but said there was nearly a calendar year to make sure those items can be resolved. While she knew there are many teachers working outside the county who will have to wake up just as early as before to fight traffic coming to school and stay later rather than being with their families, she said many of those teachers still supported the change because it was the best decision for the students.
"I know that FCPS employees and teachers care so deeply about our children and what's best for our children," she said.
At large board member Ryan McElveen said he once fought against later high school start times while he was in high school because it gave students more time in the evenings for homework and extracurricular activities.
"As we know, history moves in arcs and we are at another arc," he said.
Although Student Representative Harris LaTeef will not be able to benefit from the change, he was excited for the classes below him. In past meetings, he said this proposal would be the most important one during his tenure as student representative.
"As I said before, we can provide students with a top notch, rigorously designed education, but if we don't have our physical and mental health in check, the education the county provides us really has little meaning," he said.
After the proposal passed, supporters jumped out of their chairs, cheering and hugging one another. The next five to 10 minutes of the meeting was an impromptu break for board members and the public alike.
"It's probably going to take me a little while to process it," said Payne. "I was definitely in tears for the first few minutes. It's a little overwhelming."