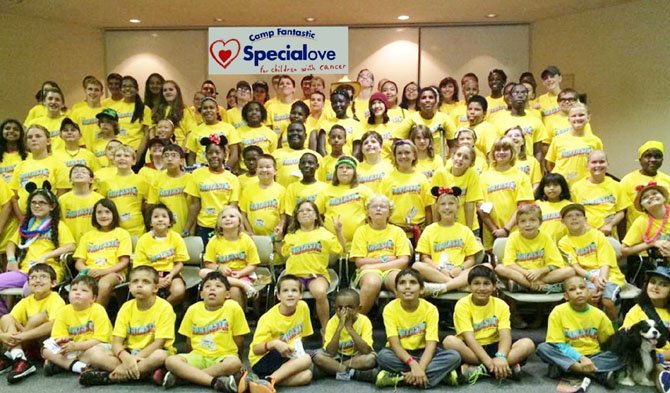 Camp Fantastic
Special Love, Inc. hosts their Camp Fantastic annually for kids with cancer who reside in Maryland, Virginia and D.C. Camp Fantastic helps reduce the fears of childhood cancer and instills hope and optimism. This is just one of over a dozen programs offered annually by Special Love. To learn more about their programs and services or about how you can help, visit http://www.specia...">www.specialove.org or call 888-930-2707. To view Camp Fantastic's "Happy" music video, visit YouTube at https://www.youtu...">https://www.youtu...
Ninety-nine campers (ages 7-17) with cancer just had an amazing week at Special Love's Camp Fantastic. Children and teens with cancer from throughout the Mid-Atlantic region including D.C. assumed the role of "Tacky Tourists" when they visited their week-long Camp Fantastic in August at the Northern VA 4-H Educational Center in Front Royal. The theme was chosen "because it opens up so many creative opportunities for a week that is already magical for these kids," says Director Dave Smith, adding that his volunteer staff excitedly emailed ideas to each other since the theme was announced in mid-June.
The camp is one of over a dozen programs sponsored by Special Love, Inc., a Winchester-based nonprofit founded in 1983 by Tom and Sheila Baker after they lost their daughter, Julie, to lymphoma in 1976. This year's event included "trips" to the islands, to Disneyland, even to outer space. Through the creative efforts of the Camp Fantastic staff, traditional locales like the 4-H center's campfire circle and amphitheater were transformed into a lunar base and the Land of Oz, respectively. Campers also went on an African safari, ventured under the sea, and visited the Wild West as part of their week of adventure. In an effort to cover as much ground as possible, the camp also employed the services of a local ham radio operator to speak to residents of foreign countries.
Campers also participated in traditional camp-based activities like swimming, canoeing, arts and crafts, and sports, as well as the previously-mentioned special evening adventures.
As Special Love finished this chapter for Camp Fantastic 2014 they wanted to remind everyone that September is Childhood Cancer Awareness Month and to consider donating to Special Love at http://www.specialove.org/. For more information about Special Love and their programs and services for children with cancer and their families, call 888-930-2707 or visit them online at http://www.specialove.org/.