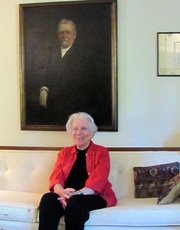 Not only is Gloria Sussman a long-time Reston resident, she is a Reston celebrity. So many people use the word "Restonian" to describe Reston's community-oriented environment and local camaraderie and it is people like Gloria Sussman who make this possible. In celebration of Gloria's 90th birthday, there will be a concert in her honor at the Reston Community Center. Her sons Ted and Bob Sussman decided that rather than throw her a party, they would more appropriately commission a piece of music to celebrate her birthday. On Oct. 2, the piece composed by Scott Solak will make its world debut. This concert also falls right in with a "Meet the Artists" series sponsored by Osher Lifelong Learning Institute (OLLI). The Chamasyan sisters — Monika, Marina and Armine — are to perform this piece on violins and piano. Gloria met the sisters at an OLLI "Meet the Artists" class at the community center and fell in love with their playing. "On her 80th birthday we had a big party for her… the idea of the commission came up and we started getting in contact with different composers," Bob Sussman said. "Mom knew it should be Scott all along and it's been perfect."
Born in Philadelphia where she received her M.S in Music at the University of Pennsylvania, Gloria Sussman brought her passion for music to Reston when she moved in 1970. Getting right to work, Gloria became the pianist for the Reston Chorale from 1972-1978. Starting piano at the age of 5, it is 85 years later and the list of her involvement and dedication to the music community continues to grow.
IN 1978, Gloria was asked to coach a small vocal group of nine people known as Musica Concordia, which lasted into the early 2000s. The group, who specialized in Renaissance and early American Music, was asked to sing annually in many venues over the years such as Bruten Parish in Williamsburg.
Good friend and member of both Musica Concordia and The Reston Chorale Nancy Riley said that a mutual friend has referred to Gloria as the "Dean of the music of Reston." In 2000 Gloria started to teach for the "Osher Lifelong Learning Institute" at George Mason University, where she teaches a course called, "Ongoing Pleasure of Music." "She teaches right in Reston," Riley said, "which is great." When Gloria is not dedicating her time to the music of Reston, and making a new friend, she is also an advocate for the visually impaired. "We have a mutual friend who moved to Reston about six years ago. She didn't know anybody," Riley said, "but she registered for Gloria's music appreciation class…and she met Gloria and likes to say, 'When I came to Reston and met Gloria Sussman, I fell into the cookie jar.'" With her teaching and support group with the blind, Gloria has a large community network around her. "The reason I still live in Reston is because it's a lovely community and I have a lot of support here," said Gloria. "As a visually impaired person who lives by herself… I do support groups for the visually impaired here in Reston and that is nice."
In 1970, when Gloria moved to Reston, she was a part of traveling music group cleverly named, "The Group." It was the original house music. Members of the group played together for each other. "The Group became the basis of the Musical Walks that we had for charity," Gloria said. "There were about four houses…and the audience would go from house to house and at the end of the fourth house we would have refreshments. It took about two and a half hours and the last time we did that was at Lake Anne."
ON MOTHER'S DAY OF 1983, the Sussman family bought their first CD player for $900. "Because of my vision problems, it makes sense to have something we couldn't scratch," said Gloria. Gloria has been a collector of music from day one and around her living room, are hundreds of CDs categorized by the date they were acquisitioned to the house. Her father taught her how to be a collector of music, she said. "My father would bring home recordings… he and my mother both enjoyed music so much of it was part of my being." She has been ever adding to the collection. "It's exciting," she said, "that some of these scraps are worth something. What you are looking at now is an antique collection." Gloria motioned to where the first CD she ever owned sat on its shelf and said, "You love what you're hearing… there is always something new to hear. It's a very trite saying but it's very true. It's never ending."
Join Gloria and her family and friends at the Reston Community Center for this special event and to hear the Chamasyan Sisters perform the world-premiere of a new composition by Scott Solak. The free concert will take place from 2:15-3:30 p.m. on Oct. 2 at the Reston Community Center and everyone is invited.