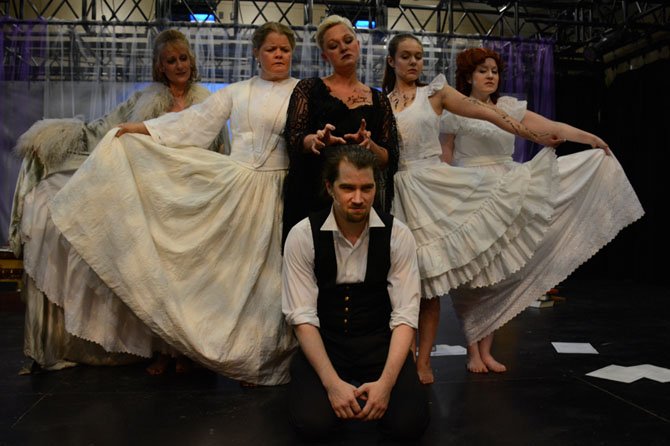 For the next month, Barbara Lawson is leading a triple life.
A freshly minted West Springfield senior, 17-year-old Lawson plays the title character in the Pandemonium Theatrical Productions setting of "Alice In Wonderland," as well as Virginia in the same company's "Nevermore," a dark musical exploring the demons of Edgar Allen Poe.
Both shows are up and running at the Workhouse Arts Center in Lorton. The year-old Pandemonium company is the brainchild of co-founders Jeffrey Davis and Mary Payne Omohundro, who produce two children's shows and two adult shows annually, exclusively at the Workhouse.
"They're so different that I do love the balance it gives me," said Lawson, "being able to do two things so completely opposite -- getting the best of both worlds."
IN "ALICE," a children-oriented adaptation by Antonio Bullock of Lorton and Jeremy MacDuff of Alexandria, Lawson nails the prim and polite, yet increasingly open-minded character.
Then as Virginia, she must balance Alice's youthful charm with the imaginative flair that inspired a connection with America's tragic poet.
"I know it's a lot," said director of both shows and co-founder of Pandemonium Jeffrey Davis. Aside from learning two sets of lines simultaneously, Lawson had to differentiate physical nuances. "You need to stop and rethink: You're not being Alice in nevermore," Davis said. "Alice has a very specific way she stands and carries herself. Nevermore is a more dark show."
But running through both characters, and both shows, are themes of open-mindedness, acceptance and imagination.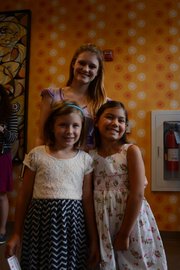 "Alice doesn't keep an open mind, at first," said Lawson, "then she has so much fun and meets all these new friends." From the cryptic Caterpillar (Lyle Smythers) to the manic Mad Hatter (Giorgio Mazzarelli), Alice goes from doubting to embracing absurdity, often with the aid of fun and catchy song-and-dance numbers.
There's just the right amount of silly voices, bright costumes and wacky wordplay (at one point Alice and the March Hare [Chris Rios] find themselves debating "flour" and "flower") to help deliver the moral of open-mindedness like a spoonful of sugar.
"It's funny confusion. It gets a laugh, and that's what you want," said Davis.
"Nevermore" is similarly subtle ("No one likes getting hit over the head by a clue-by-four," said Poe portrayer Christopher Shaw) though dives a bit deeper and darker. Poe and his five female foils exist throughout the one-act production in a constant suspended reality.
It's uncertain whether the scenes of Poe interacting with former lovers, his deceased mother and an embodiment of death herself are past, present or merely figments of a tortured mind struggling to accept itself as it passes towards the underworld.
À la the ghosts in Dickens' "A Christmas Carol," Davis has spun the work by Arlington resident Matt Conner (music) and Alexandria resident Grace Barnes (book) such that specters of five influential women from Poe's life not only expose his flaws of alcoholism, womanizing and egotism, but perhaps afford him (and the audience) the clarity needed to move on.
"You learn more about him by the relationships he has with these women," said Shaw. "They draw it all out. They reveal everything. All credit to the women."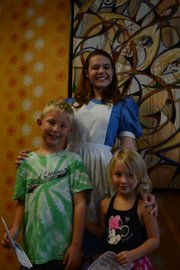 IT'S THE WOMEN who are arguably the gatekeepers to love, and love lost, throughout Poe's life. Conner reflected on that concept deeply when drawing from the poet's own words to craft melodies.
"Hell is being separated from love," he said. "When Poe felt separated from love because his mother had died at such an early age -- to recapture that and live in that hell, I really had to find a key and rhythm and motion in the music that resembles that."
Conner, currently rehearsing "Elmer Gantry" for Arlington's Signature Theater (home to the first production of "Nevermore") acknowledges the human allegory to which audiences of the nearly 30 different productions nationwide and overseas have responded.
"They're using Poe as a springboard," he said, "To accepting their horrific and beautiful journey, and realizing that they did the best they could."
"Alice in Neverland" shows each Saturday and Sunday at 1 p.m. through Sept. 28. "Nevermore" continues every Friday and Saturday at 8 p.m. through Oct. 11. For more information, visit www.workhousearts.org.