Bio
Candidate: John W. Foust
Political Party: Democrat
Current position: Member of the Fairfax County Board of Supervisors since 2007. Represents the Dranesville district, which includes McLean, Great Falls, Herndon and portions of Vienna and Falls Church.
Born: Sept. 5, 1951 in Johnstown, Pa.
Residence: McLean
Occupation: Attorney
Spouse: Dr. Marilyn Jerome Foust
Children: Matthew, Patrick
Education: B.A. Economics, University of Pittsburgh; MBA, Law degree, George Washington University Law School
Community Organizations: Former President of McLean Citizens Association and District Chairman of Boy Scouts. Current Member Board of Supervisors, Chairman of Audit and Economic Advisory Committees and Vice-chairman of Budget Committee.
Q and A with John Foust
Q: What do you consider your top 3 accomplishments as Dranesville Supervisor?
A: -Fiscal management through the Great Recession
-Dulles Rail project
-Delivering numerous pedestrian and bicycle projects in the district
Q: If you are elected, what are your top 3 priorities as a new member of Congress?
A: -Focus Congress on solving problems and not on partisan games
-Increase jobs and opportunity in our district
-Increase support for early childhood, K-12 and higher education
Q: What are the top three reasons why voters should cast their ballots for you on Nov.4.
A: -My track record as a hard-working, problem-solving elected official who helped balance seven budgets while continuing to invest in our community's priorities
-My support for job-creators like education, infrastructure, and research and development
-My support for women being able to make their own healthcare choices without interference by the government
Q: What is the last book you read?
A: "That Used to be Us: How America Fell Behind in the World It Invented and How We Can Come Back" (Thomas Freidman, Michael Mandlebaum)
Q: Who is your hero and why?
A: My father is my hero on how to live my life; Doctor Martin Luther King is my political hero because of his commitment to equality and his courage.
Q: What do you do to relax?
A: I enjoy hiking, reading, and going out to dinner with my wife.
Q: What are the first five songs on your playlist?
A: -Yesterday, by The Beatles
-Bridge Over Troubled Water by Simon and Garfunkel
-Crazy by Patsy Cline
-Wind Beneath My Wings, Bette Midler
-Luckenbach Texas, by Waylon Jennings
Q: When out-of-town friends visit, where do you like to take them to show off Fairfax County?
A: Riverbend Park
Straightening his tie, John Foust is preparing for yet another "meet-and-greet" event at the Clifton home of Democratic supporters Terry Matlaga and Kevin Bell.
It's a sunny Saturday afternoon in September, a good thing since the event is being held outside.
Foust smiles when his wife, Marilyn Jerome Foust, who frequently accompanies her husband to these events, reaches up to pat down his hair.
"John is a real bridge-builder, not a bomb thrower ... I've seen him working to find common ground on community issues …"

— Gary Serota of McLean
"You look wonderful," she tells him.
It's just seven weeks away from Election Day, in what's considered one of the hottest Congressional races in the country, and Foust's mood is upbeat.
People who know him well say Foust genuinely enjoys meeting new people and listening to their concerns, a skill that served him well during his seven years as a Fairfax County supervisor.
"He always has time for you. John is a true public servant who demonstrates solid working-class values," said Grace Han Wolf, a member of the Herndon Town Council, who has worked with Foust on a number of boards and commissions in the past decade.
"There's not an arrogant bone in his body."
"John is a real bridge-builder, not a bomb-thrower. I've known him for years, and I've seen him working to find common ground on community issues. Congress needs more people like that," said Gary Serota of McLean, a longtime friend and neighbor.
ALTHOUGH THE TWO were neighbors in McLean, they didn't really meet until they both chaperoned a Langley High School trip to Kenya in 2002.
"We got to know each other well, because we spent hours touring Kenya in these vans that travel for miles over bumpy roads. When you're with someone for 10 days, you get to know them pretty well," Serota said. "John has a consistency of character and he's got great integrity. When John says 'I'm going to do something, he does something.'"
"John is fearless," said Sharon Bulova, chairman of the Fairfax County Board of Supervisors, who introduced Foust during Saturday's campaign event. "He is one of my most valuable colleagues on the board. He has the tenacity to get things done … He worked day and night to help get the business community back on its feet."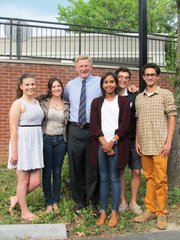 It's that same tenacity that drives Foust, 63, in his ambition to be the first Democratic representative of Virginia's 10th district in more than three decades.
According to the Rothenberg/Roll Call Political Report, the 10th district seat held firmly for 34 years by retiring U.S. Rep. Frank R. Wolf's could be the rare bright spot for Democrats this midterm election.
While some GOP strategists say Foust might be "punching above his weight class" in the congressional race, other strategists maintain the 10th district — once deeply Republican — is now considered "Leans Republican."
Foust is vying for the seat against fellow McLean resident Barbara Comstock, a GOP member of the Virginia House of Delegates.
In recent weeks, both campaigns have amped up the tone and tenor of the negative political rhetoric. They have also accelerated the number of campaign whistle stops, debates and town hall forums in an effort to get turnout during the midterm election.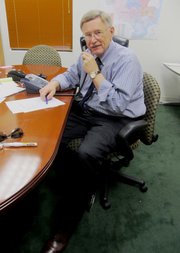 THE SCHEDULE is grueling, and it only gets worse until Election Day.
"You know, whenever I'm tempted to complain about something in this race, I think about my father," Foust said during a recent interview in his McLean campaign office.
"My dad was 50 when he lost everything he worked for, and I mean everything — house, possessions, everything — it all just washed away in a flood in my hometown in 1977," said Foust, who grew up as the oldest of five boys in Johnstown, Pa.
The flood to which Foust refers is considered one of the deadliest flash floods in the history of the United States. More than six dams burst, sending 128 million gallons of water through Johnstown. The flooding killed 85 people and rendered thousands homeless, including the Foust family, whose home was completely destroyed.
"I saw my father the morning after the flood," Foust said. "What I vividly remember is that he didn't complain. I kind of clapped him on the back, in a gesture to comfort him … But the only thing he said was 'I just can't believe I lost that film of you kids.'"
Foust said his father, a laborer on the railroad, was talking about pictures he took at his sons' football games. "My parents grew up in the Depression, and they didn't expect anything to be handed to them. My dad sometimes worked two or three jobs, but one thing he never missed was our football games."
Foust paused at the memory.
"My parents showed me a great path of how to live and, because of their example, I have a good perspective on what's important and what's not."
Foust said he was the first person in his family to go to college, and the fact that he was able to get an education made a huge difference in his life.
"Because of my education, I was able to make contributions to my community. College is becoming less affordable and less accessible now, and I want to change that. We're leaving talent on the table when we make college out of reach for everyone but the super-wealthy. I want that opportunity to be available to everyone … it's part of the American dream," Foust said.
"To me, my dad's reaction to that flood, to losing everything in one night, just puts everything into perspective for me. Sure, sometimes you get down in this race, but you work your way through it … If my dad can lose everything and not complain, I can do this," Foust said.