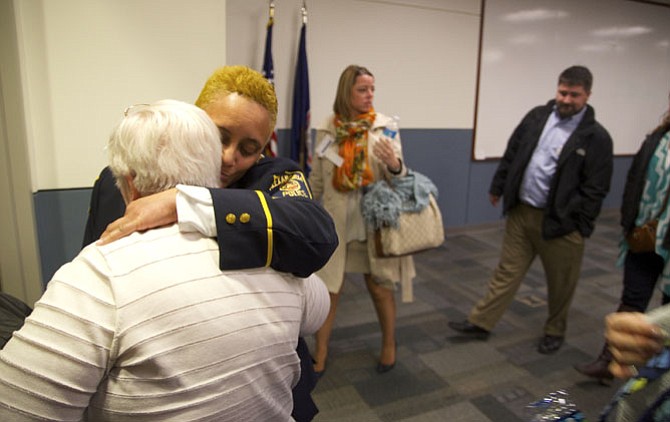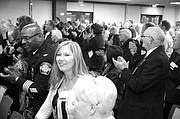 Photo Gallery
Some Gave All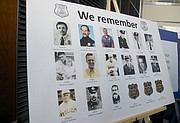 Click Photo for Flash
Judy Birney was just 12 years old when her father, youth detective Conrad Birney, was killed responding to a bank robbery in 1972. She went on to follow in her father's footsteps, serving as an Alexandria police officer until 1999. On March 28, she joined more than 350 people for the dedication of the Alexandria Fallen Officers Memorial honoring the sacrifice of her father and 17 others who died in the line of duty.
"He wasn't just a badge and a gun," Birney said of her father. "He cared greatly about the youth of Alexandria and loved his job very much. Now this memorial will be the final place where they can be remembered forever."
The Alexandria Police Foundation spearheaded the project, raising more than $450,000 for the memorial located at the entrance to police headquarters on Wheeler Avenue. Ginny-Hill Obranovich, widow of slain officer Charlie Hill, serves as the APF executive director.
"When Charlie died I promised him he would never be forgotten," Hill-Obranovich said. "This memorial will make all of them never forgotten and that's what's most important to me."
The memorial, designed by HDR Architecture, features five glass panels etched with the names of each of the 18 officers who have died in the line of duty since the Alexandria Police Department was formed in the early 1800s. Each panel is illuminated at night and a touch screen kiosk inside the lobby provides additional information about each officer.
"To the men and women of this police department, I hope this is always a place of reflection," said Alexandria Police Chief Earl Cook. "And may we never place another in memorial at this location."
APF board chairman Willem Polak worked closely with Cook and city officials to make the memorial a reality.
"The Alexandria Police Foundation was honored to lead this effort for the memorial and we thank the Alexandria community for their fantastic generosity," Polak said. "Even though it was cold outside, the unveiling of the memorial and speeches warmed everyone's heart with the spirit of unity for these 18 fallen officers and their survivor families that were there."
In addition to Birney, other survivor family members in attendance included George Crump, the great-grandson of officer George Crump, killed in 1893, and Charlie Hill, who was 7 years old when his father was shot during a hostage situation in 1989.
"I'm proud of the legacy my father left behind," said Hill, whose brother Robert is now an APD officer. "He was a role model for everyone who knew him. Now this memorial will stand as a reminder that while these officers are gone, their honor and courage and love will live on in all of us."
Ground was broken on the memorial Sept. 27, 2014 and construction began in mid-October. Its completion signifies the fulfillment of a 26-year-old promise by Hill-Obranovich.
"I want people to know these officers loved their job," Hill-Obranovich said. "They did their job and they need to be remembered forever."